Difference between Faux leather and Genuine (Real) Leather
Real Leather
Genuine leather (or real leather) has the characteristics for which the best worldwide brands choose to use it, rather than using other types of materials. This concept also applies to most everyday objects, since genuine leather offers unique and long-lasting qualities. The main peculiarities that make the real leather stand out from other materials are:
High resistance, real leather has a greater resistance than other materials that tend to ruin over time.
Breathability, real leather, unlike rubber or plastic, is breathable and lets air pass like fabric, so it is more comfortable in its use or to be worn.
Water repellent, thanks to some processes the leather can be water resistant, while remaining breathable.
It does not age, this is because the more time passes, the more the true skin acquires unique and inimitable characteristics.
Thermal-insulating, genuine leather isolates more from both cold and heat than other types of material.
It is a recycled material, it is not true that animals are killed for their skin: sheep, pigs and cattle are bred for food needs, not using the skin would mean making their sacrifice vain.
Beautiful, real leather has a different charm than objects made with similar materials.
Ecological or Bio, real leather can be so defined, especially in the case of vegetable tanned leather, since substances are used that are not harmful to humans and the environment that have a very low environmental impact close to zero.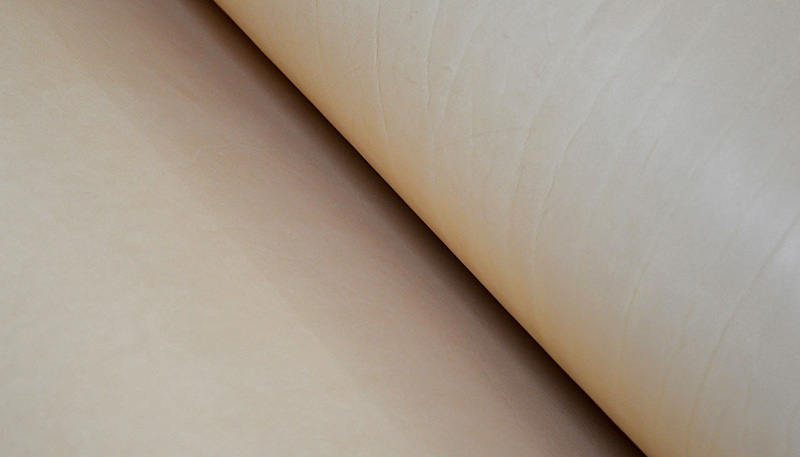 Faux Leather
Faux leather, on the other hand, has no element of animal origin, but it is an industrial product, made entirely of plastic materials (such as polyurethane, hence the name "PU Leather") on which textures are printed on the surface with the aim of giving an idea of a real leather.
There are different types of fake leather and based on the materials and the type of production, this may be better than others, but as features, however, it never reaches those of real leather or genuine leather, this is because faux leather can last several years, but over time it will tend to ruin itself, creating folds or scratches, unlike real leather that over time tends to improve and become more and more unique and beautiful, ages but hardly get ruined.
In addition, the fake leather, besides not being breathable, because it is composed of plastic materials, is also less comfortable both for being worn and for everyday use of objects.
What is Vegan Leather? Difference with Real Leather
Genuine Vegetable Tanned Leather
The real vegetable leather (or veg tan natural leather) is the only 100% eco-sustainable material, for several reasons, among the main ones we find:
Use only natural substances;
It has no environmental impact;
Animals of bovine origin are not bred for their skin, but for meat, cowhide in itself represents a waste material that would otherwise be disposed of.
For this reason, there are no greener alternatives to vegetable-tanned leather according to European (and Italian) environmental standards, and Italy, from this point of view, represents a world center of excellence in the sector in terms of pollution and sustainability.
Vegan Leather
The so-called "vegan leather" is considered an alternative, like fake leather, to the use of products of animal origin.
Some skins are called "vegan", since they use materials such as cork, algae or other plants in which the production process does not negatively affect the environment but have very high limits of use and quality compared to real leather.
However, more and more often, we hear about "vegan leather" in reference to a leather made of plastic materials (faux "PU" leather), which although not using products of animal origin, has a strong impact on the environment, since for the production they are used plastic materials derived from oil and therefore highly polluting for our planet.
In conclusion, the "vegan leather" is, in the vast majority of cases, a false myth more polluting than real leather, so it's much better, therefore, to choose a vegetable-tanned leather, just as the main luxury and fashion brands are doing.