Leather for leather goods and craft: bags, wallets, keychain, suitcases, lining, binding

In this category you will find the most suitable leather for craft, bags and for the manufacture of handbags or purses for women and men, bags, suitcases, wallets, bindings, bags and small leather goods in General. This skin type is distinguished by its "personal" character and the variety of finishes.
Buy online the leather for craft and bags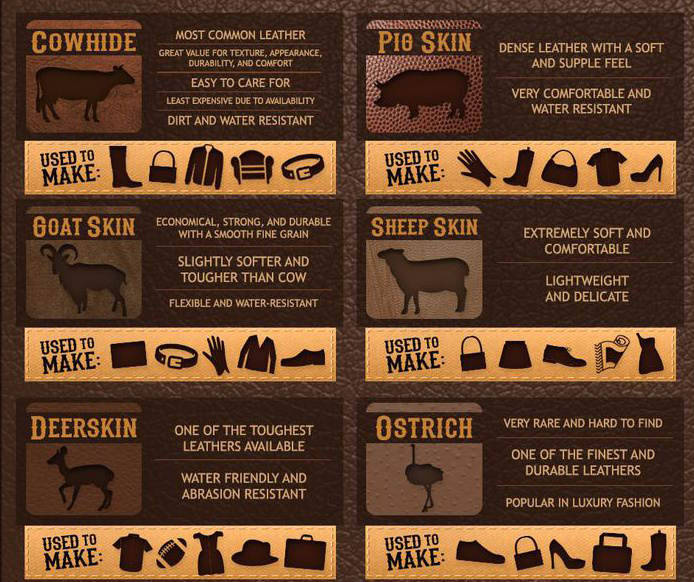 These kinds of leather are the right articles to produce leathergoods, handbags, bags, luggages, binding and lining. All these items comes with a specific "character". The dimension of the skin isn't so important since it depends by the dimension of the bag or the leathergood you want to produce.
As regards the leather for craft and bags The most important thing is the final look you want to give to your leathergoods. For small pochette you can use both rigid and soft skins, instead for big bags, sportbags, day or night bags a soft leather is usually suggested. The most important resistance to maintain are the bending and the abrasion. In out web site you will find goatskins, calfskin, sheepskin but also ostrich, deerskin and pigskin, all with different characteristic, dimension and grains. The most suitable leather are:
- Full grain. These leather maintain the full original grain of the animal. The grain is the characteristic of the article and the finishing will customize it. Full grain articles could be matt or shining but also printed or plottered.
- Split leather. They're obtained splitting the leather and taking the lower part of the skin to obtain a suede leather.
This guide helps you learn the differences between the kinds of leather used to make handbags and other fashion accessories. The type of leather used in a product is very important and it depends on the use of the goods.
Cowhide Leather
Cowhide leather comes from the skin of a cow. This type of leather can be found in car seats, sofas and chairs, and on many fashion items. Bags made of cowhide will normally last longer. Cowhide leather will usually have a good amount of noticable texture (slightly rough feeling to the touch). Many high end fashion brands use high quality, expensive, cowhide to make their products.
Ovocaprine Leather
Ovocaprine leather comes from sheep, goat, lamb. As a sheep has much less skin than a cow, the items made are usually smaller. Many people like this kind of skin for its softness and smooth surface.
Patchwork Leather, Leather Remnants, Leather Scraps
Patch leather is a term used to describe when an item is made from smaller pieces of leather. The kind of leather can be either cowhide, rabbit, sheepskin, ostrich, snakes or any other type of leather. Patch leather is usually cheaper than other types of real leather as it usually comes from leather scraps. Some of the leather used in patch can be of very high quality like lapin panels, eel panels or snake panels.
What Type of Leather is Best?
This really depends on two factors: how much do you want to pay and what is the item designed to do.
If you want:
leather backpack - cowhide will last the longest and be the least likely to tear
handbag - cowhide if you want the longest lasting, lambskin if you want the softest feeling
cell phone cases - ovocaprine for softness
About Leather Handbags
Why Handbags are so special?
Leather is created through a tanning process of skins from an animal. While cows are the most common source of skin for leather, leather also comes from the skins of pigs, goats, sheep, alligators, ostriches and lizards. Leather is durable for ages because of its resiliency and diversity, leather is a popular choice for handbags.
A fine leather handbag never goes out of style. If you think leather handbags might be unimaginative, think again. Modern tanneries produce leather in hundreds of different ways creating almost unlimited choices in leather handbag finishes and colors. Going for an interview or attending a lunch with the board of directors? Sophisticated and professional, a black Italian leather handbag is always a good choice.
Once upon a time, tanning leather was a very time-consuming and expensive process and leather handbags were out of reach for many budgets. Today, modern tanning processes make owning fine leather handbags in a variety of styles and colors affordable.
Leather Used for Handbags

What kind of leather is used in leather handbags?
There are many grades and types of leather used in handbags. Here are three basic types of leather used in fine leather handbags:
Full-grain leather is made from the finest natural hides with no imperfections. This natural grain is extremely durable. It simply does not wear out and over time develops a rich patina that increases natural beauty. Full-grained calfskin handbags are made from the skins of young cattle and are prized for their smooth texture and fine quality.
Corrected-grain leather (also called top-grain leather) is smooth on one side and fuzzy on the other side. On the smooth side, the natural grain of the hide is sanded off and an artificial grain is applied with a stamping process. This process hides imperfections and adds interest to the leather finish.
Suede is an interior split of the hide. A velvet-like, soft and fuzzy look and feel makes suede a popular choice for leather hobo handbags and backpack style handbags. Check out suede shoulder bags, suede satchels and suede handbags.
In addition to these three basic types of leather you can find also exotic leather handbags such as ostrich, python, crocodile, lizard, stingray and many others.