The importance of a nice belt
The belt for sure is the most important accessory in man's everyday's clothing beside being an important element to determine the waist line of many kind of women's clothes. There are in fact types of gun belts and belts, bulging and smooth, lined or not, thin or tall etc. For instance, a woman's shift dress, large, with no waist line definition, like a stretch fabric belt or a 1 cm belt, bulging and wide, will look anonymous and won't define the figure. The same is true for a man, some trousers with a front crease, shirt and no belt? Impossible. Showing the trousers buttons would be unforgivable, on the other hand showing a belt, that matches the color of the shoes and, possibly, also of the briefcase will really make you look elegant.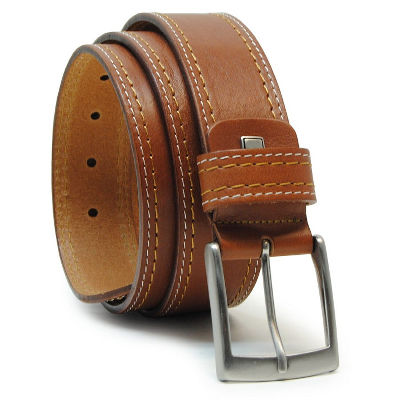 Which leather hides shall we buy?
Leather for making belts will clearly offer a wide selection of types, needed in order to produce a number of belts and gun belts available on the market. If we aim to produce an elegant belt, for women, to use just as a decoration, we will look for calves, half calves or whole calves, chrome tanned, with matte, glossy, laminated or stamped finishing up to exotic skins. To produce women gun belts for jeans, we can use breeches, shoulders, fronts or rumps vegetable tanned, glossy finishing or greased ones, pelts of 2,5 to 3,5 mm. width resin coated in the bottom part, that won't need any lining.
Belts and gun belts for man
Leather for elegant belts can be of calves, half calves and whole calves or breeches, strictly chrome tanned in order to increase its softness, with maximum width of 1,2 mm in order to be convex. In case of sport belts, suitable for jeans or for casual trousers, the best option are vegetable tanned leather, breeches, shoulders or rumps, with a thickness up to 4,5 mm, with resin on the back, since they won't require any lining and ensure extreme comfort even for customers with a bit of belly.