Leather for sofas and armchairs
The first step to take into consideration when you want to create a sofa or leather chair is to calculate how much skin you need, adding a 20% as scrap.
The diagram below helps to have an idea of what are the various needs of leather, if you are not able to determine by yourself how much skin you need, our advice is contact an upholsterer who will definitely help you in identifying the amount of skin to draw out your armchair, chair or sofa in leather.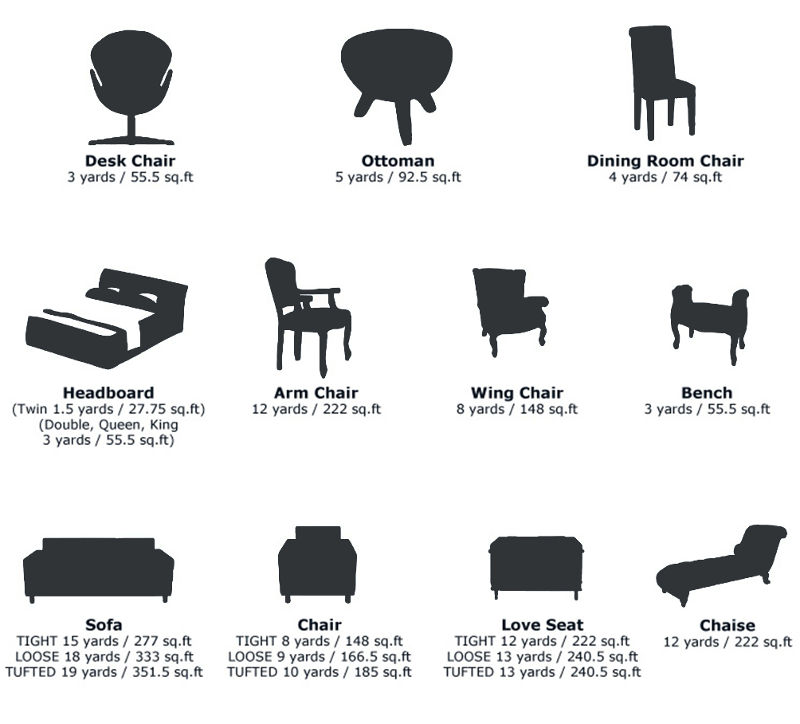 Leather for Furniture and Upholstery
In the leather for upholstery and furniture category you will find the best choices of leather for furniture and upholstery, and therefore suitable for making coatings of armchairs, sofas, chairs, puff, foot rest and also use them to spread out as carpets. Each item will have its own description with the better use we suggest.
Welcome to BuyLeatherOnline
BuyLeatherOnline is the first choice for interior designers, upholsterers and manufacturers worldwide, from America to Europe, the Middle East, Asia and Australia. Our customers come from multiple business, including private jets, musical instruments, business or private person, office and home design; car, yacht, and motor coach interiors, and more. On our website you will find many options for upholstery materials, leather is in our DNA. Genuine leather has withstood the test of time, providing aesthetic beauty, rich texture, and lasting durability for furniture, wall coverings and area rugs. BuyLeatherOnline consistently delivers superior quality products and professional service to our customers.
Customer satisfaction is our number one priority, we made the shopping easy: our professional sales and customer service representatives are honored to serve our customers and assist with selecting the best product for each project
Buyleatheronline collaborates with the most elite tanneries in Italy to provide beautiful, innovative leather products for customers. Our mission is to give to all of our customers the best leather purchasing experience by providing supreme quality leather, customized services, and on-time delivery.
The different types of leather
Aniline Leather
Aniline leather is highly prized for the way it looks, is the most natural looking type of leather and retains the unique surface characteristics such as pores scars. Aniline leather is dyed by immersing the hide in a transparent dye bath, but the surface is retained because it is not coated with any additional polymers or pigments. Only the very best hides, about 5% are used for aniline leather, because all surface marks remain visible.
Advantages: Aniline leather is very soft to touch, and comfortable. Since it retains all the unique markings and characteristics of the hide, each piece is very different from the other.
Disadvantages: Since it is not protected, aniline leather can be stained easily. It is not recommended to use in furniture for young families or very high traffic areas for that reason. Highly priced.
Semi-Aniline Leather
Semi-aniline leather is just a little bit more hardy and covered than aniline leather because its surface has been treated with a light coat that contains some pigment and this makes it more soil and stain resistant.
Advantages: While it has the uniqueness of aniline leather, semi-aniline leather has more consistent color and is more resistant to stains, isn't damaged as easily. Semi-aniline leather is a bit less expensive.
Disadvantages: The markings are not as apparent, and therefore less unique than aniline leather. If you are a fan of the more natural looking aniline leather, then this is not for you.
Protected, or Pigmented Leather
Protected leather is the most common and durable type of leather, it is the most used leather in manufacturing furniture and upholstery. Protected leather has a polymer surface coating containing pigments in suspension. While the thickness of the surface coating may vary, it allows the manufacturer to have more control over the properties of the leather.
Advantages: This type of leather is easy to maintain and it is the most resistant, uniform surface and color.
Disadvantages: This type of leather does not have the uniqueness of aniline leather, and looks less natural. The grain of the leather loses its natural look because is heavily covered.