What is upholstery leather?
Upholstery leather represents the macro category of leather suitable for covering the interiors of cars and various types of furniture (nautical, aircraft, sofas, chairs, beds, walls, etc.); these hides are usually large in size and may have particular physical characteristics such as greater resistance to wear, water and light.
Depending on the intended use, the following kinds of upholstery leather hides can be identified:
Classic interior leather: sofas, chairs, furniture;
Automotive leather hides intended for covering the interiors of cars;
Nautical leather intended for covering the interiors of boats;
Specific upholstery skins for aircraft and hotels (usually fireproof).
Genuine leather as material for furnishing or upholstery is a "must have" for those who decide to buy something beautiful, natural and long-lasting, especially if maintained with proper care.
Advantages of leather as material for upholstery and furnishings
Upholstery leather can be found in many variations of style, colors, finishes and tanning and compared to other materials (such as faux leather, Alcantara or synthetic fabrics) has the following advantages:
Luxurious appearance and natural touch, real leather looks better to the eye and to the touch than other materials;
Durability, real leather is very resistant to wear and over time;
The typical smell;
Breathability and comfort, genuine leather has above all the advantage of being very breathable and comfortable when we sit on it;
Eco-sustainability, leather produced in Italy is an eco-sustainable and recovery material that ennobles the sacrifice of the animal (we want to remember that animals are not bred for their skin but for their meat, so leather is first of all a bi-material that would otherwise be wasted).
Types of upholstery leather: how to choose?
When we are faced with having to choose the leather to buy, surely one of the first factors we consider is the price: there are different types of leather, finishing, dyeing and tanning techniques from which more or less expensive skins are derived based on the characteristics that they have.
The main distinction that needs to be made leads us to identify three main types of upholstery leather, from the most economic to the most valuable:
Split leather: when the skin is divided into two layers, the resulting lower part is called split. With the finishing process, the leather is dyed and eventually corrected by grinding and subsequently pigmented or left in its suede condition. It is the least expensive type of skin and sometimes it is difficult to identify, compared to a top grain leather, when heavily finished.
Corrected-grain leather: it is a type of top grain leather that is finished with pigments and/or superficial prints with the aim of covering defects and giving a uniform appearance. It is a type of skin that is moderately expensive, very widespread and particularly resistant.
Full-grain leather: it is the most valuable and expensive kind of leather, but also the most delicate, as the top layer of the skin (grain) is kept in its most natural state with the pores in evidence.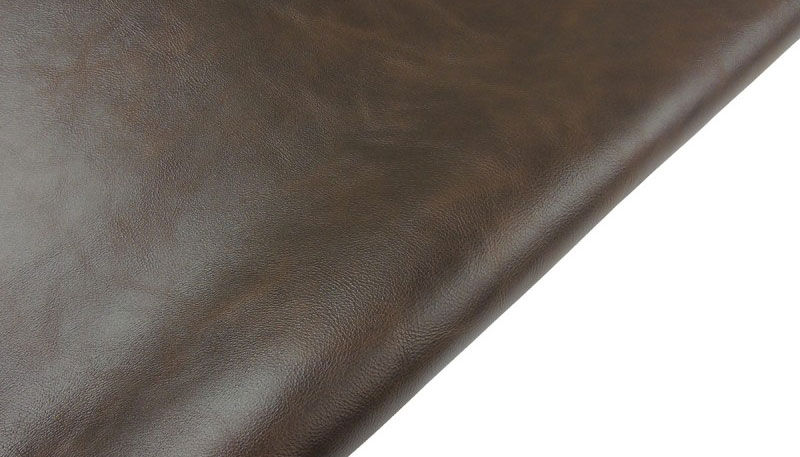 Example of leather with corrected grain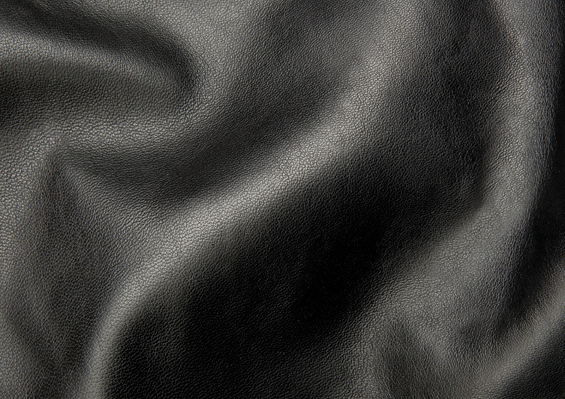 Example of full grain leather
Types of leather finishing for upholstery:
Upholstery leather hides can be finished using the main different techniques listed below:
Pure Aniline leather: these are colored skins with non-toxic dyes and are not treated with a protective finish. This skin has a lot of porosity, so it easily absorbs natural oils. Aniline dyes are transparent, so this type is used with high quality full grain leather with natural marks in evidence on the surface.
Semi-Aniline leather: those skins are similar to the first, but in addition they have a thin layer of pigment that is applied to even the color and uniform the surface. The skin is sprayed with a protective coating keeping its natural aspect.
Pigmented leather: it is a type of leather to which a dye of pigments in suspension is sprayed over with the aim to protect and cover the surface giving greater resistance and creating a rich and uniform color. This type of finish can be applied both to the split skins and to the top grain hides. This type of leather is soft, but at the same time very resistant, for this reason is the most used both for coverings of furniture and car interiors.
Pull-up leather: it is a type of semi-aniline leather, with the addition of a wax, when it is pulled the dye spreads so as to create a two-tone antiqued effect. This type of skin looks aged as the wax that is applied as a protective coating is easily manipulated during normal use and these marks are then reabsorbed by themselves over time. This type of treatment is offered on top quality full grain leather and is used in antiques or fine furniture.
Polished or hand-buffered leather: it is a type of semi-aniline leather with an antique effect given by hand applying layers of aniline dye on the full grain leather. It is a procedure that is carried out by expert craftsmen that apply various layers of color to obtain the desired effect and the leather may present natural signs. At the end a protective finish and a sealant is applied. This kind of finish is used a lot for antiques and high-end furniture.
Nubuck Leather: this type of leather is obtained by sanding the full grain leather to create a soft and velvety appearance similar to the suede effect, but more luxurious and delicate. A protective layer is applied to the Nubuck leather for furniture to avoid easy stains from fluids. However, this type of skin is more delicate then aniline, semi-aniline or pigmented leather.
Printed Leather: printing is a step in the leather finishing process. The leather is printed under pressure to create veins or specific textures on the surface; classic examples are dollar print leather (hammered) and reptile prints.
Leather for chairs, furniture and sofas
One of the most used types of leather for furniture and sofa upholstery is the Pigmented Leather, as this type of leather is soft, flexible but at the same time very resistant to scratches and stains. Moreover, precisely because a protective coating is applied, this causes the color to last over time.
Leather for car interiors
Even for car interiors, the most used leather, due to its characteristics of resistance and comfort, is Pigmented Leather. Furthermore, the cost of pigmented leather is not too high and makes it possible to offer a good compromise between luxury and expense.
Example of pigmented printed leather

Where to buy leather for furniture and upholstery?
The leather for furniture and upholstery that best suits your needs can be purchased, directly online, with a few clicks, on our website buyleatheronline.com, in the dedicated section, where you will find the best Italian leather for Furniture and Upholstery; large hides, designed to cover chairs, tables, puffs, sofas, armchairs, furniture, car interiors, etc., available for immediate delivery and in different finishes, colors and price ranges.