Vegetable Tanning Process: An ancient tradition
A centuries old tradition that artisans from Tuscany have handed down from generation to generation, and which in the 21st century is still used to work leather vegetable tanning, a technique nowadays complemented with the latest technological developments. It is a natural process which respects the animal, the harmony of nature, and which makes use of technical knowledge in the field of leather craftsmanship. Furthermore, the manufacturing process is gentle and does not significantly alter the nature of the leather. Hides used for this kind of manufacturing come from cattle of the food industry, and this implies that no animal is killed exclusively for the tanning process.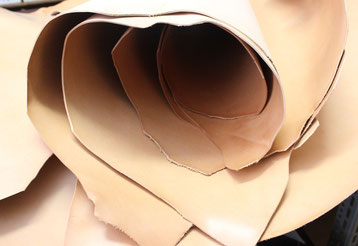 Processing characteristics
It takes a long time to transform raw hides into leather that can be used to make clothes, accessories, and finishings, and the people involved all have a love for this antique and prized profession. This kind of natural processing makes use especially of tree-derived tannins. These can in fact convey a warm and natural tone to the leather, which rises to the surface over time and enhances the quality of the material.
The advantages of vegetable tanned genuine leather
The highest quality leather is precisely the one made through this natural process. The slow treatment, in fact, turns each piece of leather into something absolutely unique, gives it an intense and unmistakable fragrance, and more importantly is extremely versatile. One advantage of this kind of tanning is mainly seen over time—the leather does not deteriorate, and ages gradually. This makes it perfect for fields such as furnishing or fashion, for example the creation of purses with classic and timeless designs.
Vegetable tanned genuine leather is particularly suited for people with allergies: as a matter of fact, the process is carried out without the use of toxic substances, chemical products, or heavy metals.