More info
Vegetable tanned natural bellies, semi-rigid firmness, ideal for sandals, tooling, small bags, insole, bag handles, leather goods and binding. This is the classical "Vachetta leather" in the not oiled version. The price refers to one skin of which is indicated the average size.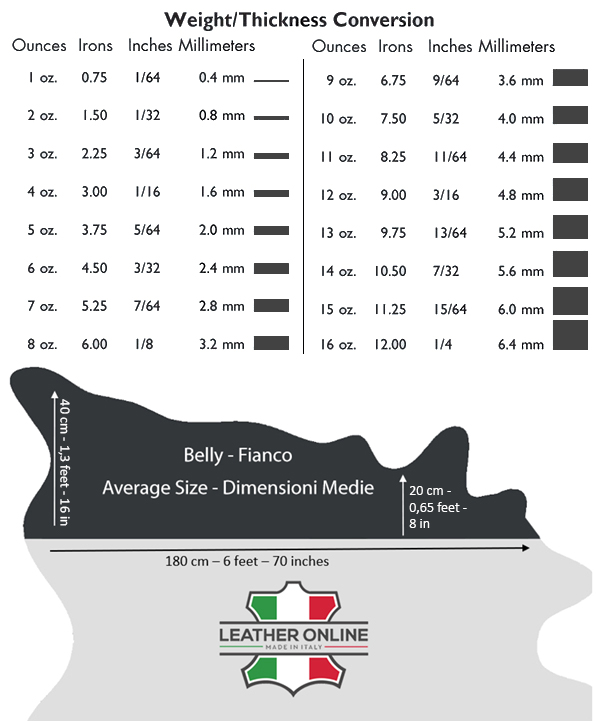 Vegetable tanned natural bellies: Vachetta leather (not oiled)
Vegetable leather bellies require different processing than other leather parts (single or double butt, front shoulder, etc.) because they have a different shape, different top grain and a different thickness. Consequently, bellies are cut before tanning process and immersed in the drums separately. Generally leather bellies have a surface area ranging from 0.5 to 1 square meter, a length from 2 to 2.50 meters and an average width of 40 cm.
Thanks to these features, bellies are very well suitable to production of sandals and leather goods in general. Sometimes they can also be used to achieve belts or objects that require very long lengths, although thickness (1-2 mm on average, 3 mm max) can not be compared to other types of thicker leather (single or double butt, front shoulders). Finally, like any other vegetable tanned leather, they are perfect for tooling. Bellies also have a vegetable-tanned natural color and a medium temper. This leather, like all our products, is carefully selected (first grades) and comes only from the best Italian suppliers.
Primary uses of veg tan bellies
| | |
| --- | --- |
| | |
| | |
| Bags and other leather goods | |
| | |