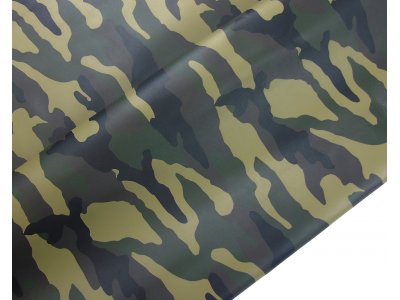 Camouflage printed calfskin leather
Soft temper
Italian fashion hide with military design
Premium quality
Suitable for the production of wallets and bags, covers, document holders, leather accessories, shoes, bindings but also small furnishings
The price refers to the single skin of which the average size is reported
Data sheet
Tanning

Chrome Tanning

Type of Leather

Bovine Grain Leather

Leather Cut

Half Calfskin

Thickness Range

Normal (1 ~ 2 mm)

Exact Thickness

1,2 mm - (3 oz.)

Type of Finishing (Primary)

Printed

Finishing Description

Printed: this leather is characterized by a printed surface whose purpose is usually to enhance the natural grain of the leather, such as the common pebble (dollar) print, or to recreate fantasy designs.

Temper

2/6 Soft

Primary Use

Leather Goods, Bags, Binding, Wallets. This leather is suitable for producing leather bags or purses, totes, luggage, wallets, book bindings, covers, lining and small leather goods in general.

Secondary Use

Shoes and Footwear. This leather is suitable for shoes and footwear of all kinds, from decoltè to boots, elegant or sporty. The leather for shoes are resistant to bending and weathering.

Other Uses

Furniture, Upholstery and Coverings. This kind of leather is intended to cover chairs, tables, puffs, sofa leather, carpet, armchairs, furniture, automotive interiors but it's also usable for every purpose.

Size Range

Medium (up to 1,6m² - 18ft²)

Average size of the whole piece

1,2 m² - 13 sq. ft. - 1,4 yd²

Overall quality of leather

Excellent - 1° Grade

Possibility to request samples

Yes, you can request samples simply by sending a message with the reference number of the product.
Product Information
Camouflage printed calfskin leather, soft temper. This printed on Plotter leather belongs to the unique and inimitable category of Italian fashion hides. It is suitable for the production of wallets and bags, covers, document holders, leather accessories, shoes, bindings but also small furnishings. The price refers to the single skin of which the average size is reported.
N.B.
You can choose between "Half" and "Whole" piece:
Average size of the "whole piece": 1,2 m² - 13 sq. ft. - 1,4 yd²
Average size of the "half piece": 0,6 m² - 7 sq. ft. - 0,7 yd²
Whole Size
Half Size
Customers who bought this product also bought: