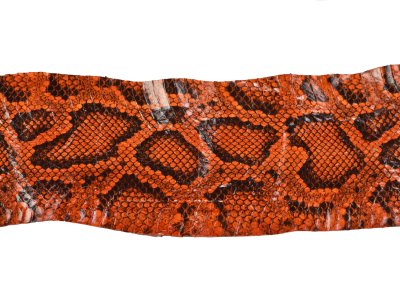 Exotic genuine "Elaphe" snake skin
Real snake leather
Very thin (0,3mm - 1oz.)
Normal temper
Metal free tanning
NO CITES
Suitable for leather goods making such as belts, bags, shoes, wallets, garment, cover, craft, small accessories and binding
The price refers to one skin with an average size of approximately 140x10cm (55x4" inches)
Data sheet
Tanning

Chrome Tanning

Type of Leather

Snake Skin

Leather Cut

Whole Skin

Thickness Range

Thin (0,4 ~ 1 mm)

Exact Thickness

0,3 mm - (1 oz.)

Type of Finishing (Primary)

Aniline (Full Grain)

Finishing Description

Aniline: the leather finished in this way is characterized by the most natural look and quality. Only the finest kinds of leather coming from the best choices of raw are suitable for this processing. Pros: natural look, top quality.

Dye

Completely Passing Through

Temper

3/6 Normal

Primary Use

Leather Goods, Bags, Binding, Wallets. This leather is suitable for producing leather bags or purses, totes, luggage, wallets, book bindings, covers, lining and small leather goods in general.

Secondary Use

Belts and Saddlery. This leather is usually characterized by a square shape and an high thickness and is suitable for the production of belts, harness and saddles for motorbikes, horse riding, bicycles etc..

Other Uses

Shoes and Footwear. This leather is suitable for shoes and footwear of all kinds, from decoltè to boots, elegant or sporty. The leather for shoes are resistant to bending and weathering.

Other Uses (2)

Garment. This Leather is characterized by high quality finishes and reduced thickness which ensure lightness and comfort, this item is suitable for creating gloves, jackets, blazers, coats and many other leather garment items.

Average size of the whole piece

140x10cm (55x4'')

Overall quality of leather

Excellent - 1° Grade

More details about quality

Even if of 1° grade, the leather may have a small defect that does not affect its use.

Possibility to request samples

Not Possible. This item is not eligible for sending samples
Product Information
Exotic genuine "Elaphe" snake skin, real snake leather very thin and lightweight, with normal temper. This metal free tanned leather is perfect for the production of various leather goods such as belts, bags, shoes, wallets, garment, craft, covers, accessories and binding. 
The price refers to one skin with an average size of approximately 140x10cm (55x4" inches)
Average size:
Length: 140-160 cm = 51-63" = 4-5 feet
Width: 8-12 cm = 3-5" = 0,2-0,4 feet

CITES: Not required, This species is not currently listed in the CITES Appendices.
Customers who bought this product also bought: