Big size whole cowhide leather for furniture and upholstery
Plain smooth surface
Aniline dyed trough, semi-aniline finish
Full grain
100% Italian quality
Ideal as upholstery leather, furniture, sofa, car interiors, nautical furniture but also leather goods, bags, pillows, wallets and binding
The price refers to one skin of which is indicated the average size
Data sheet
Tanning

Chrome Tanning

Type of Leather

Bovine Grain Leather

Leather Cut

Whole Cowhide

Thickness Range

Normal (1 ~ 2 mm)

Exact Thickness

1,2 mm - (3 oz.)

Type of Finishing (Primary)

Semi-Aniline

Finishing Description

Semi-Aniline: this leather is similar to the one of pure aniline but it has the addition of a thin layer of pigments then covered with a transparent protective layer. Pros: good quality, uniform surface.

Type of Finishig (Secondary)

Aniline Dyed Through

Temper

2/6 Soft

Primary Use

Furnitures, Upholstery and Coverings. This kind of leather is intended to cover chairs, tables, puffs, sofa leather, carpet, armchairs, furniture, automotive interiors but it's also useable for every purpose.

Secondary Use

Leather Goods, Bags, Binding, Wallets. This leather is suitable for producing leather bags or purses, totes, luggage, wallets, book bindings, covers, lining and small leather goods in general.

Size Range

Extra L (more than 4m² - 45sf²)

Average size of the whole piece

4,5 m² - 50 sq. ft. - 5,4 yd²

Overall quality of leather

Excellent - 1° Grade

Inventory Policy

Deadstock or Stock Lot Item: over the time this item may be discontinued in some colors or variations. Custom supply productions could in some cases be possible, contact us for more details.

Possibility to request samples

Yes, you can request samples simply by sending a message with the reference number of the product.
Product Information
Big size whole cowhide leather aniline finished, characterized by plain smooth surface, is ideal as upholstery leather, furniture, sofa, car interiors, nautical furniture but also leather goods, bags, pillows, wallets and binding. The price refers to one skin of which is indicated the average size.
Plain whole cowhide leather for upholstery and furniture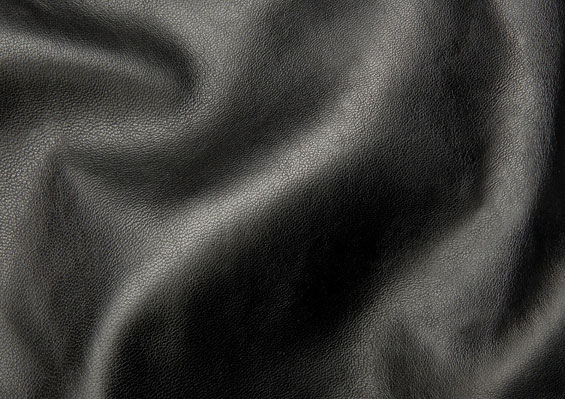 The full grain aniline cow hide is the best choice for those who intend to create premium quality coverings for their sofa or leather goods. Here you will find the leather for furniture and upholstery, and therefore suitable for making coatings of armchairs, sofas, chairs, puff, foot rest and also use them to spread out as carpets. This kind of leather is obtained selecting the best cow leather coming from the European Raw Hides that are tanned in Italy following the best tradition and methods. The full aniline cow hide is a full skins that is suitable to cover your furniture without seams, because of this, usually only the full hides are used for this purpose.
Aniline leather is highly prized for the way it looks, is the most natural looking type of leather and retains the unique surface characteristics such as pores scars. Aniline leather is dyed by immersing the hide in a transparent dye bath, but the surface is retained because it is not coated with any additional polymers or pigments. Only the very best hides, about 5% are used for aniline leather, because all surface marks remain visible.
Primary uses 
| | |
| --- | --- |
| Upholstery, Sofa, Furniture | |
| Bags and other leather goods | |
Customers who bought this product also bought: