Whole cowhide leather
Printed & pigmented finish
Big size
Soft temper
Pebble (or dollar, madras) print surface
Ideal as upholstery leather material, furniture, sofa, car interiors, nautical furniture but also leather goods, bags, pillows, wallets and binding 
The price refers to one skin of which is indicated the average size
Data sheet
Tanning

Chrome Tanning

Type of Leather

Bovine Grain Leather

Leather Cut

Whole Cowhide

Thickness Range

Normal (1 ~ 2 mm)

Exact Thickness

1,4 mm - (3,5 oz.)

Type of Finishing (Primary)

Pigmented
Printed

Finishing Description

Pigmented and Printed: the pigmented finishing gives to the leather a uniform surface, excellent light resistance, defect coverage and easy maintenance. The printed finishing enhance the surface of the grain side.

Temper

2/6 Soft

Primary Use

Furnitures, Upholstery and Coverings. This kind of leather is intended to cover chairs, tables, puffs, sofa leather, carpet, armchairs, furniture, automotive interiors but it's also useable for every purpose.

Secondary Use

Leather Goods, Bags, Binding, Wallets. This leather is suitable for producing leather bags or purses, totes, luggage, wallets, book bindings, covers, lining and small leather goods in general.

Size Range

Extra L (more than 4m² - 45sf²)

Average size of the whole piece

4 m² - 45 sq. ft. - 4,8 yd²
4,5 m² - 50 sq. ft. - 5,4 yd²

Overall quality of leather

Excellent - 1° Grade

Possibility to request samples

Yes, you can request samples simply by sending a message with the reference number of the product.
Product Information
Whole cowhide leather printed and pigmented finish, big size, soft temper, the surface has a pebble (also called dollar or madras) print, it is ideal as upholstery leather material, furniture, sofa, car interiors, nautical furniture but also leather goods, bags, pillows, wallets and binding. The price refers to one skin of which is indicated the average size.
Pebble printed whole cowhide leather for upholstery and furniture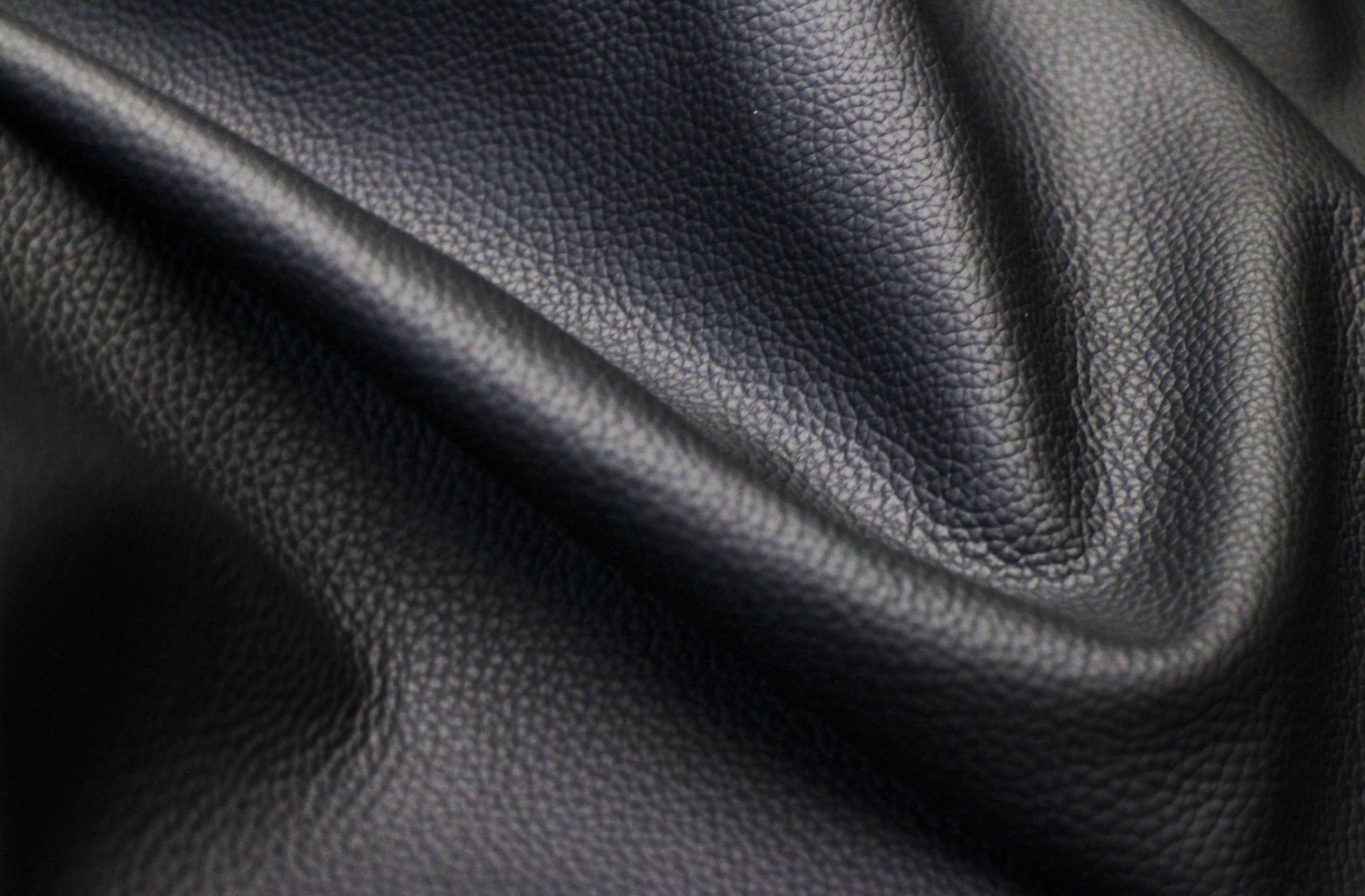 Printed whole cowhide leather for upholstery is the best choice for those who intend to create premium quality coverings for their sofa or leather goods. Here you will find the leather for furniture and upholstery, and therefore suitable for making coatings of armchairs, sofas, chairs, puff, foot rest and also use them to spread out as carpets. This kind of leather is obtained selecting the best cow leather coming from the European Raw Hides that are tanned in Italy following the best tradition and methods. The pigmented leather is a full or top grain leather that is easy to clean, uniform, without defects, is very resistant and it used for car interiors and sofa coverings. 
Corrected grain and pigmented leather
Protected or corrected leather is the most common and durable type of leather, it is the most used leather in manufacturing furniture and upholstery. Pigmented leather has a corrected grain that protect thanks to a polymer surface coating containing pigments in suspension. While the thickness of the surface coating may vary, it allows the manufacturer to have more control over the properties of the leather.
Primary uses 
| | |
| --- | --- |
| Upholstery, Sofa, Furniture | |
| Bags and other leather goods  | |
Customers who bought this product also bought: