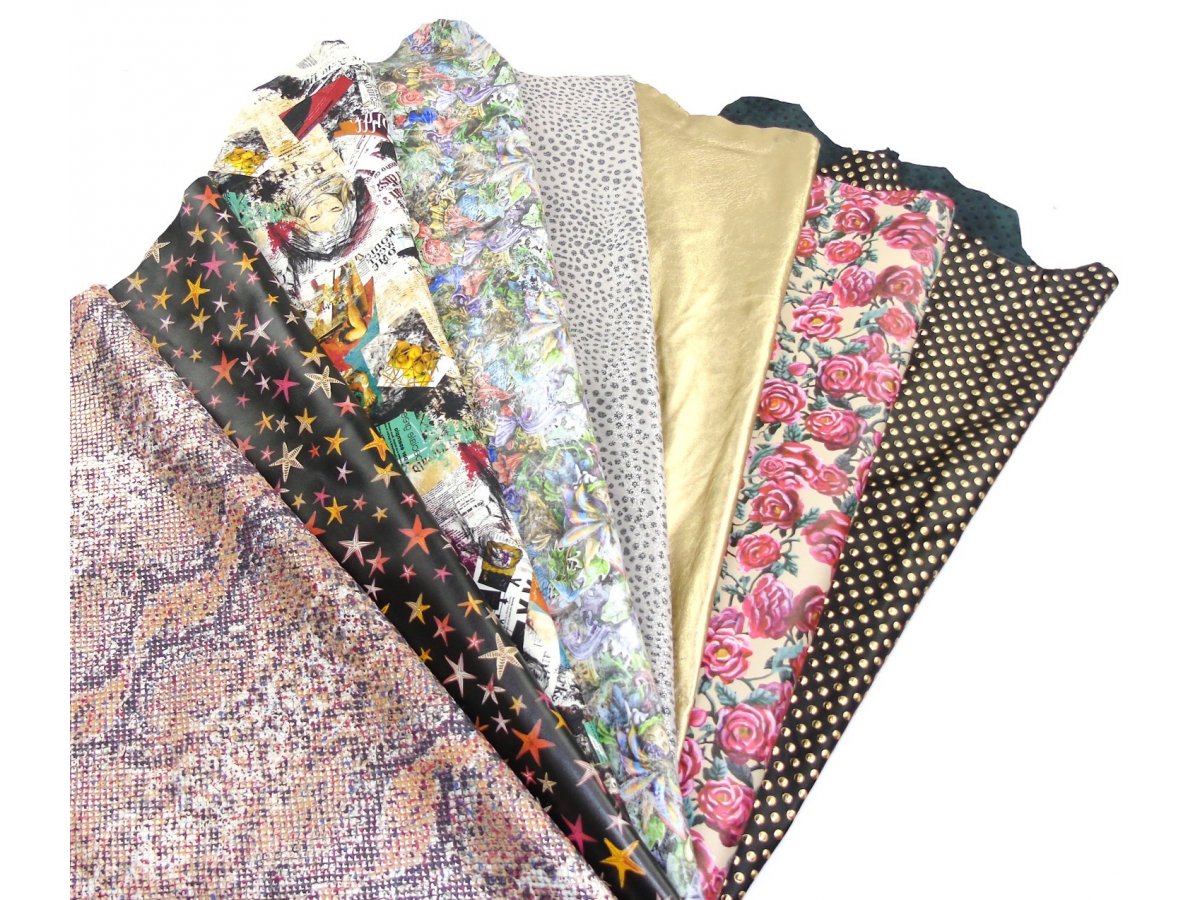 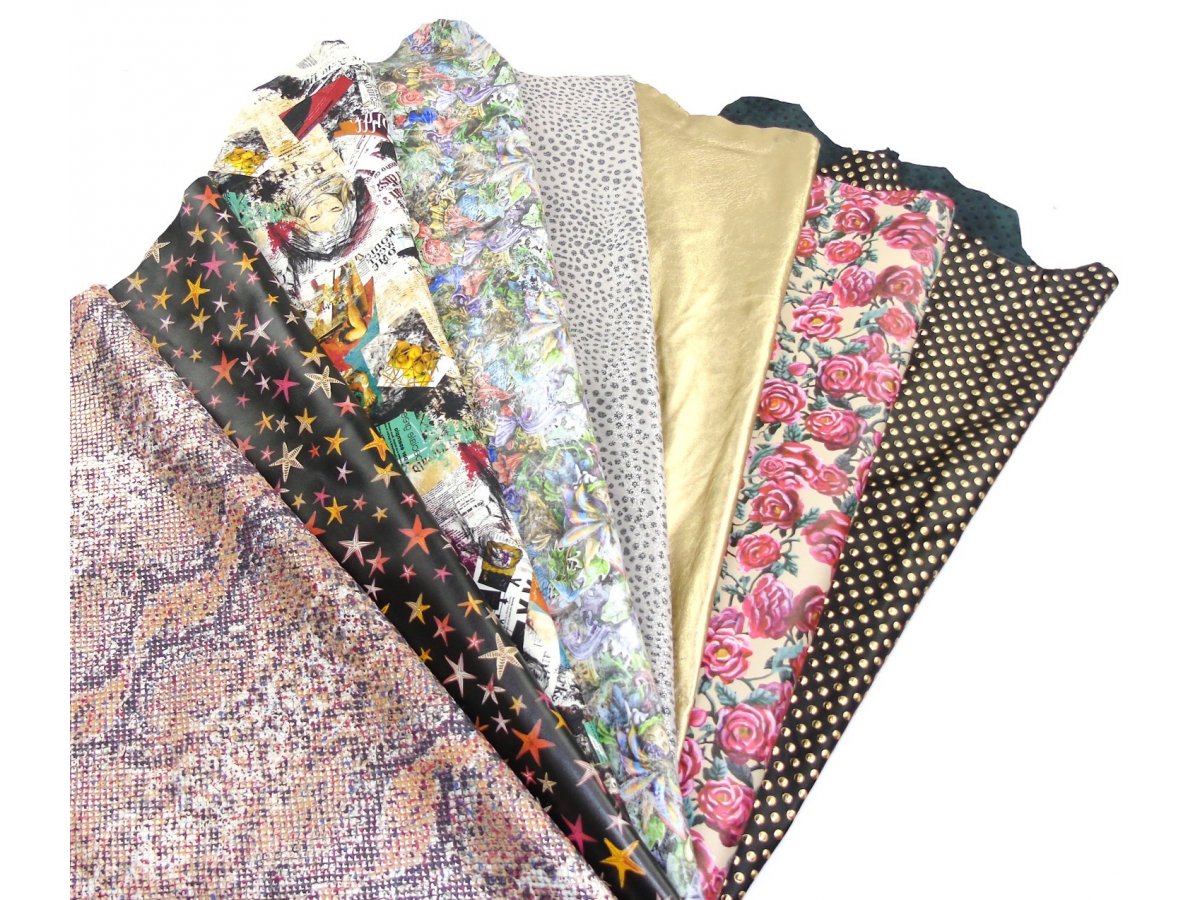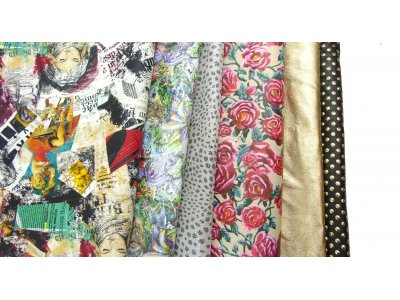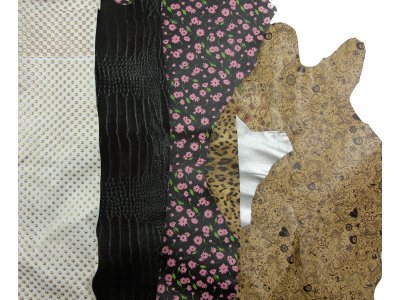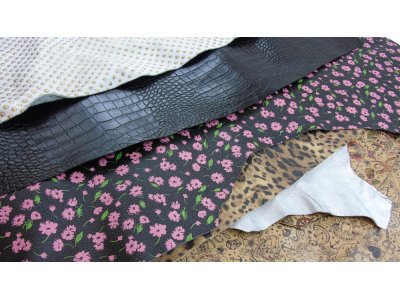 Mixed Italian fashion skins and hides sold by weight
Extremely high quality/price ratio
Mixed thickness, finishing, colors and fantasies 
Coming from the most famous fashion brands
Big size, range from 0,4m² (4sf) to 1,5m² (16sf)
Ideal for bags, leather goods, leather for

crafts

, wallets, slippers, shoes, sandals and belts
You can select the bundle size.
VOLUME DISCOUNTS
| | |
| --- | --- |
| Package Size | Discount |
| 5kg | -16% |
| 10kg | -25% |
Data sheet
Tanning

Chrome Tanning

Type of Leather

Bovine Grain Leather
Goatskin
Lambskin - Sheepskin

Leather Cut

Whole Skin

Thickness Range

Normal (1 ~ 2 mm)
Thin (0,4 ~ 1 mm)

Type of Finishing (Primary)

Mixed

Color

Mixed colors not selected. The article is sold without the possibility of choosing the color. You may express a preference in the order notes but there is no guarantee of receiving it.

Primary Use

Leather Goods, Bags, Binding, Wallets. This leather is suitable for producing leather bags or purses, totes, luggage, wallets, book bindings, covers, lining and small leather goods in general.

Secondary Use

Leather Remnants and Scraps of leather useful for creating bags, leather goods, leather for crafts, wallets,slippers, shoes, sandals, belts etc..

Minimum size of the whole piece

0,4 m² - 5 sq. ft. - 0,5 yd²

Average size of the whole piece

1 m² - 11 sq. ft. - 1,2 yd²

Overall quality of leather

Excellent - 1° Grade
Product Information
Italian fashion mixed skins and hides sold by weight coming from the most famous European and Italian luxury fashion brands dead-stocks. This item is ideal for leather craft in general, bags, wallets, shoes tests and accessories. This item comes in an extremely high quality/price ratio, in various colors, finishing and fantasies.
You can select the bundle size on the menù:
VOLUME DISCOUNTS
| | |
| --- | --- |
| Package Size | Discount |
| 5kg | -16% |
| 10kg | -25% |
If you buy this item you will receive a number of full skins according to the weight you ordered. For example if you buy "2 quantity" of the "1kg - 2,2lbs" package you will receive 2 kg (4,4 lbs) of mixed whole skins. The quantity of skins you receive may vary each time. We try to mix light weight skins with heavy weight ones so also if you order only 1kg / 2,2lbs you will receive a good number of skins. Size of skins range from 0,4m2 (4sf) to 1,5m2 (16sf).
The photos are only demonstrative, they do not represent the current stock of colors and prints/texture and therefore what you will receive with your order.
Italian fashion leather hides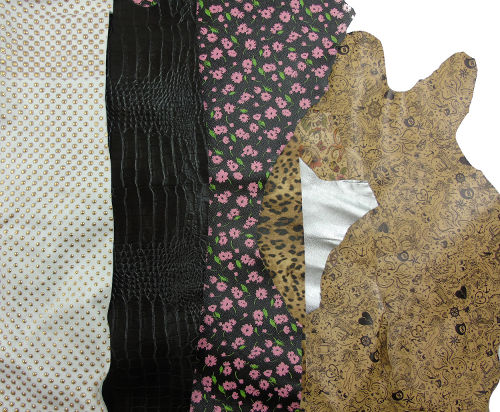 The mixed Italian fashion leather hides are a very particular item and sometimes underestimated. It consists of a set of whole skins of large dimensions that can be both bovine and goat or sheep, sold by weight. The fact that they are sold by weight makes them a very affordable product because ordering one or more units of product you will receive at home a good number of skins. Another key feature of these skins is that they are all special because recreate animal prints, fantasy drawings, serigraphs, can be laser engraved or have a whole series of processes that follow the latest trends in Italian fashion. Finally, the fact fashion leather hides come from Italian fashion factories is synonymous with quality and design without compromise.
These Italian fashion leather hides actually have many uses ranging from small and medium-up leather crafts in general. The skins you will receive are mixed in type and may have variable sizes that are indicated in the data sheet, ranging from half a square meter for sheep skins up to superior sized skins if you order more than 1kg of product. These skins are designed for handicrafts, for testing or for creating unique and inimitable objects such as handbags, wallets, shoes, small items like key rings, earrings, mobile phone covers and anything else the imagination can suggest.
Primary uses 
| | |
| --- | --- |
| Leather craft & Leather goods in general | |
| Small unique leather accessories | |
Customers who bought this product also bought: