Premium vegetable tanned bellies
Original color and quality used by a famous brand
Natural "Vachetta leather" in the not oiled version
Semi-rigid firmness
Wider and more workable shape
Thickness 2,0mm (5oz.)
Ideal for bags and purses, handles, straps and edges of bags, sandals, insoles, tooling and leather goods
The price refers to one skin of which is indicated the average size
Data sheet
Tanning

Vegetable Tanning

Type of Leather

Bovine Grain Leather

Leather Cut

Belly

Thickness Range

Normal (1 ~ 2 mm)

Exact Thickness

2 mm - (5 oz.)

Other Thicknesses Available

Yes, you can request a custom splitting down to 0,8mm (2 oz.) in order notes

Type of Finishing (Primary)

Natural Vegetable (Full Grain)

Finishing Description

Natural Vegetable: this finishing, also known as "Crust", is characterized by a natural full grain surface that is clearly visible because the skin is left in its natural state without any kind finishing. It can be used in this state or further refined.

Temper

4/6 Semi-Hard

Primary Use

Leather Goods, Bags, Binding, Wallets. This leather is suitable for producing leather bags or purses, totes, luggage, wallets, book bindings, covers, lining and small leather goods in general.

Secondary Use

Shoes and Footwear. This leather is suitable for shoes and footwear of all kinds, from decoltè to boots, elegant or sporty. The leather for shoes are resistant to bending and weathering.

Other Uses

Belts and Saddlery. This leather is usually characterized by a square shape and an high thickness and is suitable for the production of belts, harness and saddles for motorbikes, horse riding, bicycles etc..

Size Range

Medium (up to 1,6m² - 18ft²)

Average size of the whole piece

1,1 m² - 12,2 sq. ft. - 1,3 yd²

Overall quality of leather

Excellent - 1° Grade

Possibility to request samples

Yes, you can request samples simply by sending a message with the reference number of the product.
Product Information
Premium vegetable tanned "Vachetta" natural bellies, this is the original leather used by a very famous fashion brand for the creation of its bags. These bellies have a semi-rigid firmness and are ideal for bags and purses, handles, straps and edges of bags, sandals, insoles, tooling and leather goods in general. This is the classical "Vachetta leather" in the not oiled version.
The price refers to one skin of which is indicated the average size.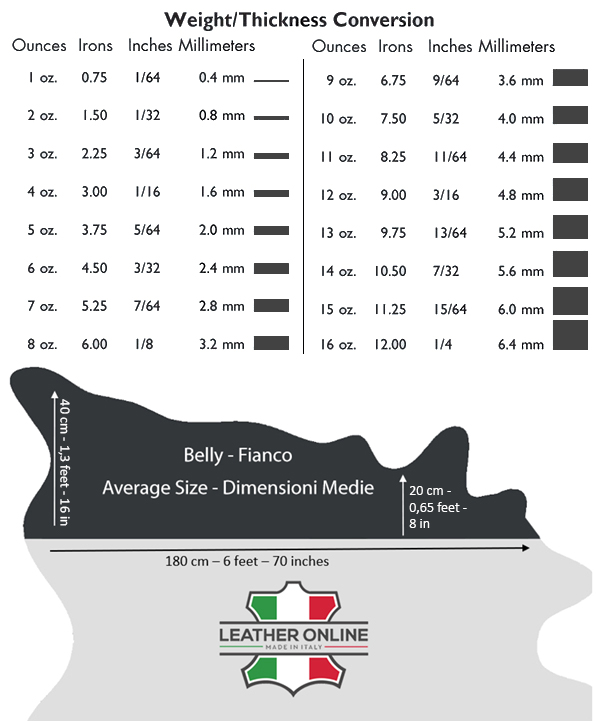 Premium vegetable tanned bellies: "Vachetta" leather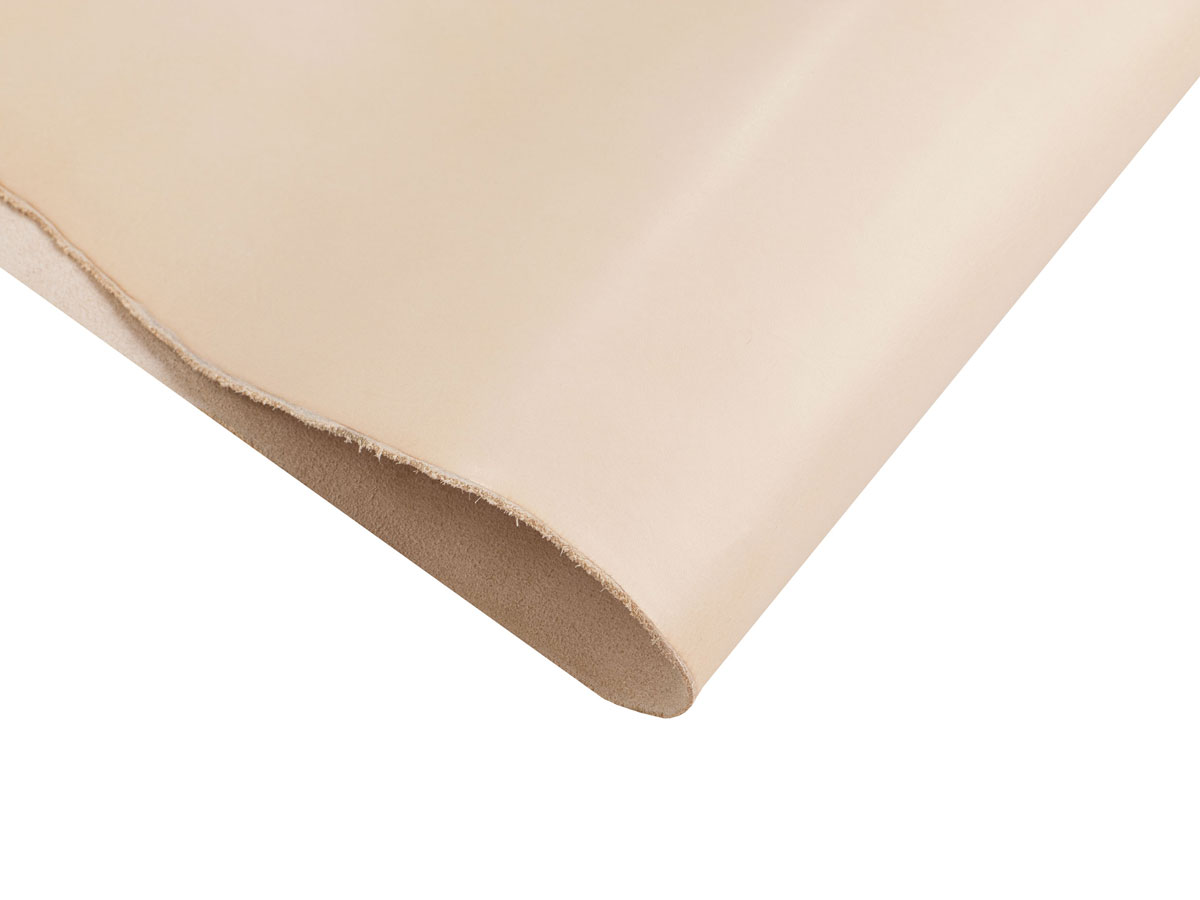 Vegetable tanned leather bellies require different processing than other leather parts (bends, shoulders, calf sides etc..) because they have a different shape, different grain and a different thickness. In fact, bellies are cut before the tanning process, when the skin is still in raw, and put into the drums to be tanned separately. Generally leather bellies are long and narrow, they have a surface area ranging from 5 to 10 square feet and a length from 2 to 2,50 meters and an average width of 40cm. The more valuable bellies are those which surface is larger and the shape is squared.
Bellies are characterized for a very fine grain and are suitable for the production of sandals, handles, straps, purses and leather accessories in general. Sometimes they can also be used to make belts or objects that require very long lengths, although thickness (usually 2mm - 5oz.) can not be compared to other types of thicker leather (like bends or shoulders). Finally, like many other vegetable tanned leather, they are perfect for tooling. These premium veg tan bellies come directly from the Italian supplier that provides the bellies for a famous brand.
Primary uses of premium vegetable tanned bellies
| | |
| --- | --- |
| Bag handles, edges and straps | |
| | |
| | |
| | |
Customers who bought this product also bought: