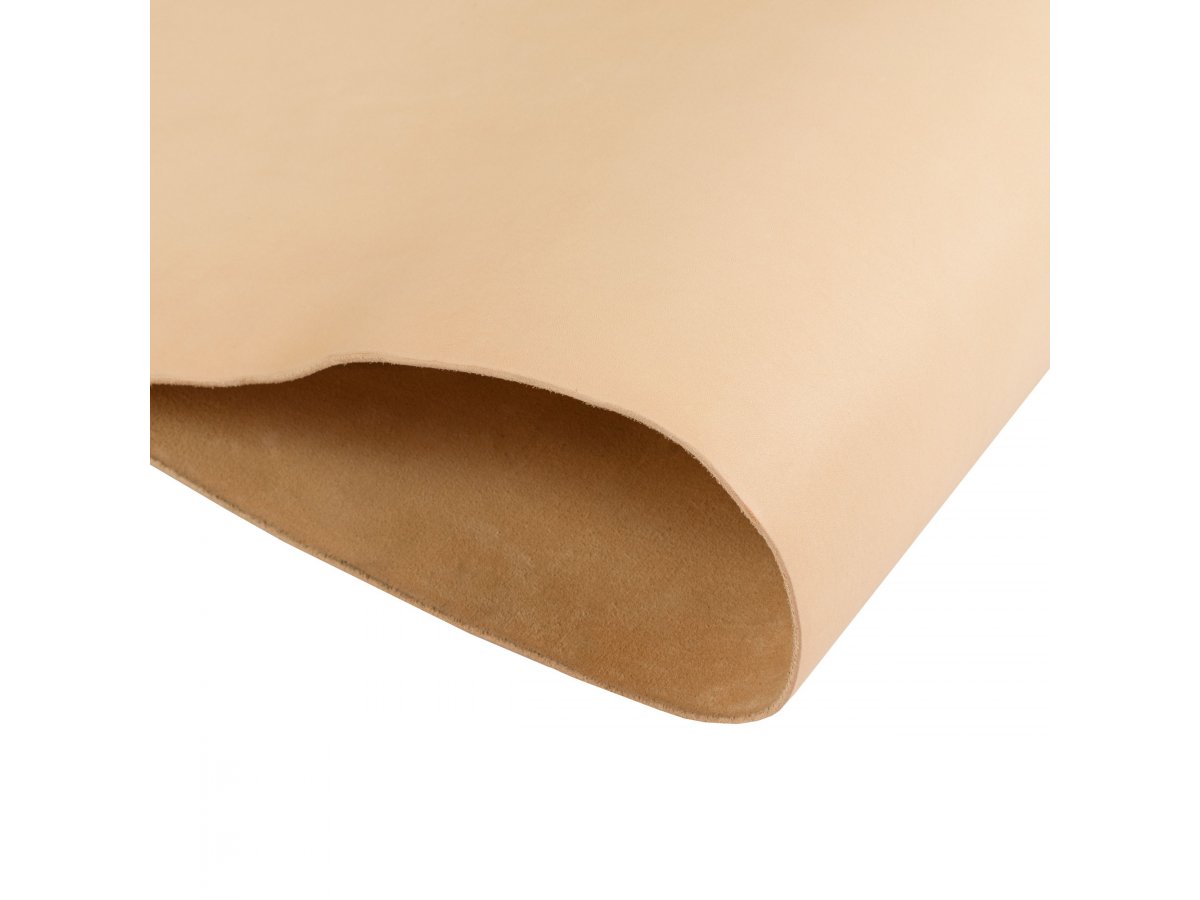 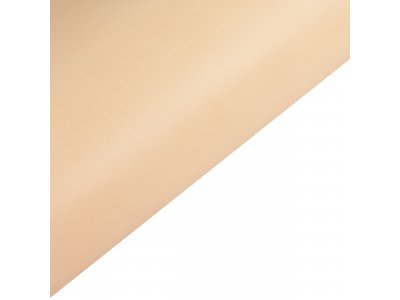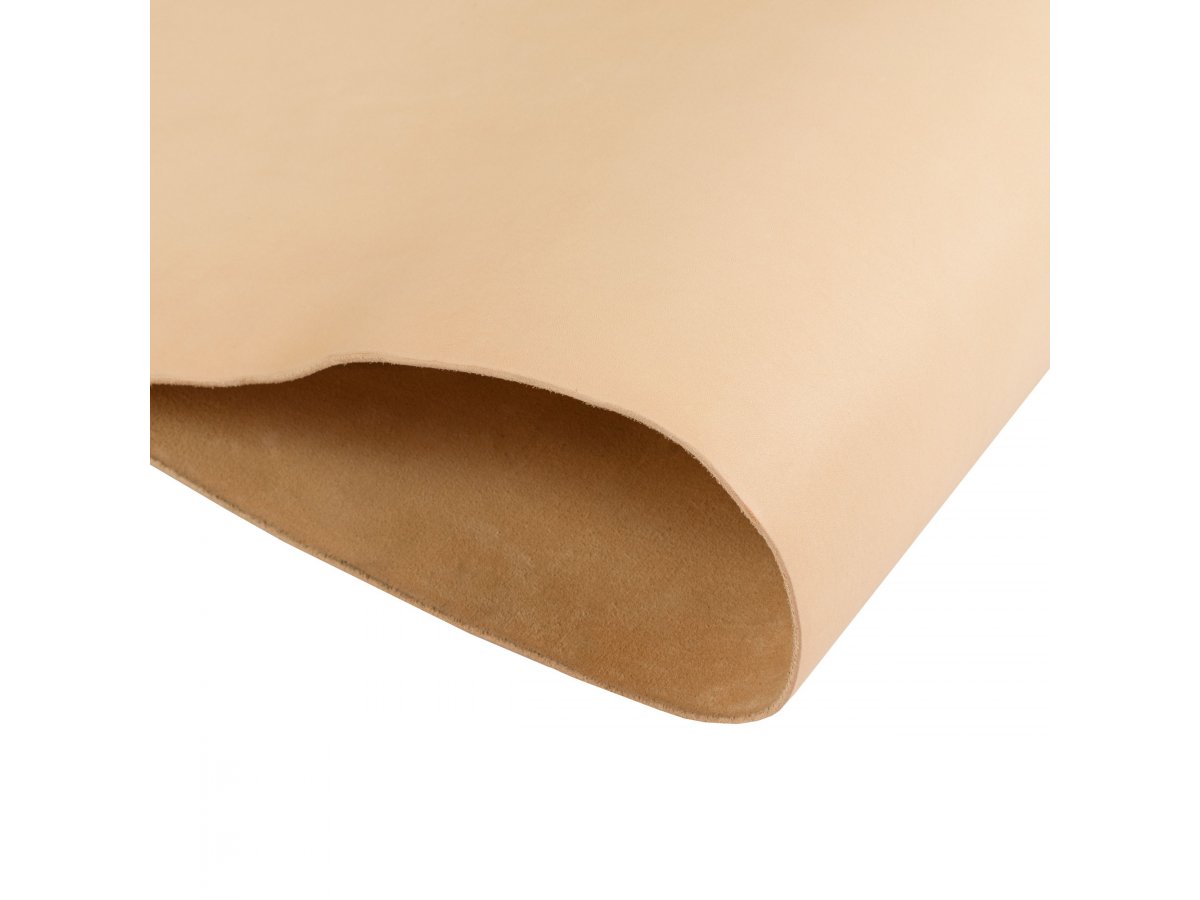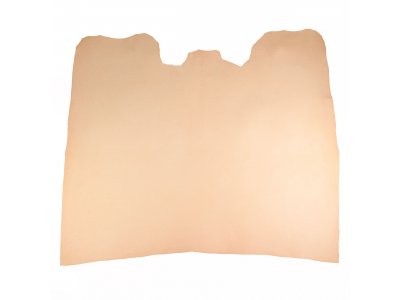 Vegetable tanned double butts (bends)
Thick leather (4mm - 10oz.)
Suitable for long belts, leashes, harness and saddlery
Exceptional quality from the best choices of European Bull Raw Hides
The price refers to one skin of which is indicated the average size
Data sheet
Tanning

Vegetable Tanning

Type of Leather

Bovine Grain Leather

Leather Cut

Double Butt (Bend)

Thickness Range

Very Thick (3 ~ 5 mm)

Exact Thickness

3,8 - 4 mm (10 oz.)

Type of Finishing (Primary)

Aniline (Full Grain)
Natural Vegetable (Full Grain)

Finishing Description

Natural Vegetable: this finishing, also known as "Crust", is characterized by a natural full grain surface that is clearly visible because the skin is left in its natural state without any kind finishing. It can be used in this state or further refined.

Type of Finishig (Secondary)

The colored butts are fully finished: aniline (or semi-aniline) finish on the grain side and resin back.

Dye

Completely Passing Through

Temper

4/6 Semi-Hard

Primary Use

Belts and Saddlery. This leather is usually characterized by a square shape and an high thickness and is suitable for the production of belts, harness and saddles for motorbikes, horse riding, bicycles etc..

Secondary Use

Leather Goods, Bags, Binding, Wallets. This leather is suitable for producing leather bags or purses, totes, luggage, wallets, book bindings, covers, lining and small leather goods in general.

Other Uses

Shoes and Footwear. This leather is suitable for shoes and footwear of all kinds, from decoltè to boots, elegant or sporty. The leather for shoes are resistant to bending and weathering.

Size Range

Large (more than 1,6m² - 18ft²)

Average size of the whole piece

2 m² - 22 sq. ft. - 2,4 yd²
2,2 m² - 24 sq. ft. - 2,6 yd²

Overall quality of leather

Excellent - 1° Grade

Possibility to request samples

Yes, you can request samples simply by sending a message with the reference number of the product.
Product Information
Vegetable Tanned Double Butts (bends) are a very special kind of thick leather suitable for long belts, leashes, harness. This veg tan leather material is characterized by an exceptional quality since it comes from the best choices of European Bull Raw Hides and it is tanned in Italy. Nothing can be compared to this quality in the vegetable tanning field. The price refers to one skin of which is indicated the average size.
There are two kind of finishes among which you can choose:
The Natural color double butts are in "crust" (not finished): natural surface, without any kind of finishing, can be used in this way of further refined by hand.
The Colored vegetable tan double butts are fully finished: aniline (or semi-aniline) on the grain side, resin on back side, so they are ready to use i.e. for cutting belts.
N.B.
You can choose between "Half" and "Whole" piece:
Average size of the "whole piece": 2 m² - 22 sq. ft.
Average size of the "half piece": 1 m² - 11 sq. ft.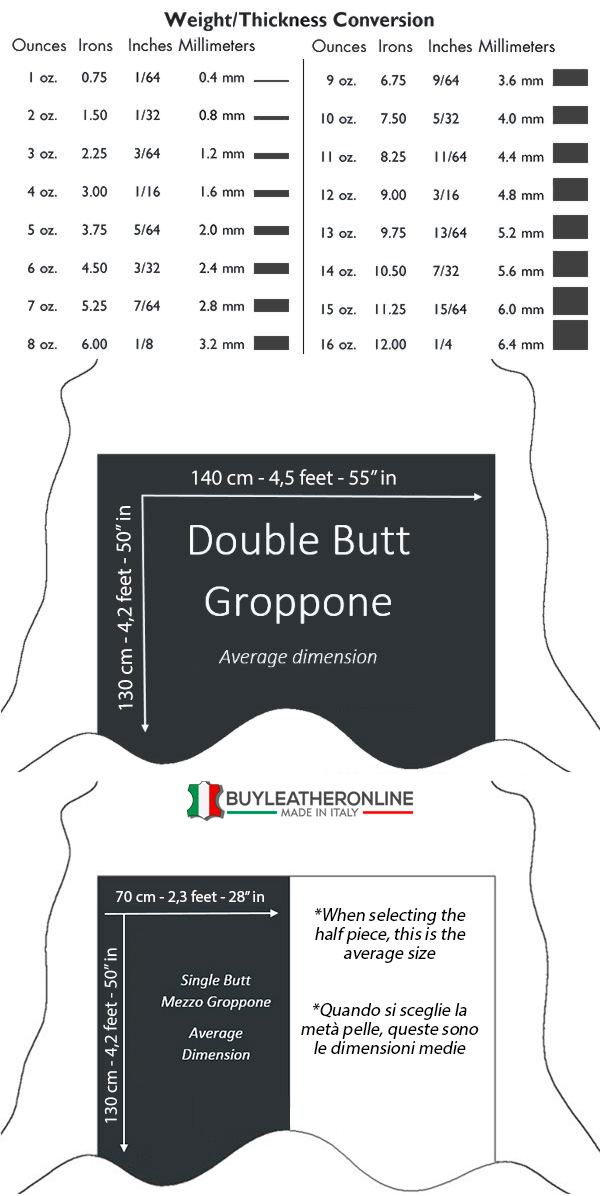 Vegetable tanned double butts (double bends)




Veg tanned leather is part of Italian culture and DNA. In fact, vegetable tanning was invented by Etruscan in 800 A.C. Today, it is one of the jewels of Italian industry; in particular, vegetable tanned leather has its roots in Tuscany and it is there where today veg tanned leather is produced in the most noble and qualitatively better shape following tradition and experience that this land has accumulated over the years. Vegetable tanning skin process is in fact much more difficult than we might think: it requires lot of experience, it is needed to know in detail all various types of raw hides and all chemical processes involved. Tanning is similar to cooking good food: you have to choose the right recipe. 

Coming from best raw choices of national slaughterhouse, our butts are derived from bull hides which are of the highest quality; they shows little or no sign or defect and thicknesses is generous as well as size of the skin that allow you to realize several belts thanks to its square shape and its length that can be up to meter and a half. Another widespread use of double butts is for saddlery because they are very suitable for bridles and harnesses for horses in addition to riding and motorcycle saddles . Finally, double butts are also very appropriate for tooling and engravings.

Main applications of veg tan double butts
Customers who bought this product also bought: