
Natural vegetable tanned square shoulder
European bull leather
Made in Tuscany
Thickness 2,5-3mm (6-7oz.)
Semi-rigid firmness
Very high quality - A grade
Ideal for belt, saddlery and leather goods
The price refers to one whole or half piece of which is indicated the average size
Select the thickness you want from the drop-down menu
Data sheet
Tanning

Vegetable Tanning

Type of Leather

Bovine Grain Leather

Leather Cut

Square Shoulder

Thickness Range

Thick (2 ~ 3 mm)

Exact Thickness

2,5 mm - (6 oz.)
3 mm - (7,5 oz.)

Other Thicknesses Available

Choose one thickness from the drop-down menu
Yes, you can request a custom splitting down to 0,8mm (2 oz.) in order notes

Type of Finishing (Primary)

Natural Vegetable (Full Grain)

Finishing Description

Natural Vegetable: this finishing, also known as "Crust", is characterized by a natural full grain surface that is clearly visible because the skin is left in its natural state without any kind finishing. It can be used in this state or further refined.

Temper

4/6 Semi-Hard

Primary Use

Belts and Saddlery. This leather is usually characterized by a square shape and an high thickness and is suitable for the production of belts, harness and saddles for motorbikes, horse riding, bicycles etc..

Secondary Use

Leather Goods, Bags, Binding, Wallets. This leather is suitable for producing leather bags or purses, totes, luggage, wallets, book bindings, covers, lining and small leather goods in general.

Other Uses

Shoes and Footwear. This leather is suitable for shoes and footwear of all kinds, from decoltè to boots, elegant or sporty. The leather for shoes are resistant to bending and weathering.

Size Range

Medium (up to 1,6m² - 18ft²)

Average size of the whole piece

1,5 m² - 16,2 sq. ft. - 1,8 yd²

Overall quality of leather

Excellent - 1° Grade

Possibility to request samples

Yes, you can request samples simply by sending a message with the reference number of the product.
Product Information
Natural vegetable square shoulder 2,5-3mm (6-7oz.) for belts and leather goods. This is a very high quality leather, coming from the best European Bull raw hides, in the most cases without any of mark or defect, that has been tanned in Tuscany following the best Italian tanning tradition which represents a worldwide point of reference. The price refers to one whole or half piece of which is indicated the average size. Select the thickness you need from the drop-down menu.
N.B.
You can choose between "Half" and "Whole" piece:
Vegetable tanned leather: Square shoulders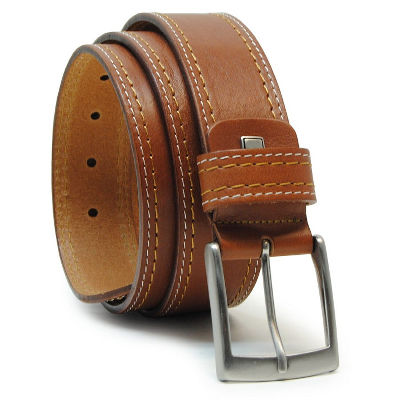 Vegetable tanned leather is distinguished from the others by its very natural appearance that skin keeps at the end of this treatment. This process consists of immersing hides inside of rotating drums where it gets in contact with a mixture of water and tannins (vegetable substance derived from trees). The appearance of the skin due to the vegetable tanning is extremely natural, leaving its signs and characteristics intact that make it a unique leather, different from any other. This particular aspect makes tanned leather in high demand and used in fashion. Vegetable skin can be natural colored ( natural color of the mantle ) or colored (that its surface remain uncovered after dyes).
Square shoulders are one of our favorite vegetable-tanned products. This part of leather lends itself particularly well to production of  bags and belts due to its square shape which avoids to waste contours of the surface (as is the case for non-square shoulders). It is also used for upholstery and leather goods.
Finally, a feature that makes this skin so different from any other is the so-called wrinkle that is formed at the center of shoulder. Although an unskilled eye can see it as a defect, it gives more personality to the finished product. This leather is also very suitable for tooling.
Customers who bought this product also bought: