Single butt
Hard outsole leather
Vegetable tanning
Natural finish
Thick thickness (choose one from the menù)
Ideal for making the soles of high-quality boots and shoes and for other purposes, as well as for shoe repairing and resoling
The price refers to one skin of which is indicated the average size
Data sheet
Tanning

Vegetable Tanning

Type of Leather

Bovine Grain Leather

Leather Cut

Single Butt

Thickness Range

Thick (2 ~ 3 mm)
Very Thick (3 ~ 5 mm)

Exact Thickness

2,8 mm - (7 oz.)
3,8 mm - (9,5 oz.)
5 mm - (13 oz.)

Other Thicknesses Available

Choose one thickness from the drop-down menu
Yes, you can request a custom splitting down to 0,8mm (2 oz.) in order notes

Type of Finishing (Primary)

Natural Vegetable (Full Grain)

Finishing Description

Natural Vegetable: this finishing, also known as "Crust", is characterized by a natural full grain surface that is clearly visible because the skin is left in its natural state without any kind finishing. It can be used in this state or further refined.

Temper

6/6 Very Hard

Primary Use

Sole-Leather. This Leather is thick, strong and it's used for making the soles of boots and shoes, and for other purposes. This is 100% Italian vegetable tanned leather.

Size Range

Medium (up to 1,6m² - 18ft²)

Average size of the whole piece

0,8 m² - 8,8 sq. ft. - 1 yd²

Overall quality of leather

Excellent - 1° Grade

Possibility to request samples

Yes, you can request samples simply by sending a message with the reference number of the product.
Product Information
The single butt out-sole hard leather natural finish, in an Italian vegetable tanned leather with a thick thickness up to 5mm (13oz.) and it's used for making the soles of high quality boots and shoes, and for other purposes, as well as for shoe repairing and resoling. The price refers to one skin of which is indicated the average size.
Leather (out) sole: single butt vegetable tanned

Leather outsole is vegetable tanned leather almost exclusively used to make soles of shoes. Its main features are stiffness and thickness . Its increased stiffness is essential for creating comfortable soles, while its high thickness (about 4.5 mm ) ensures great resistance. Single butts butts are made from central part of the whole skin, just below animal's shoulders (as you can see in the image below). 
Although single (and double) butts are the ideal skin for belts (thanks to their square shape), they are also very indicated for leather outsoles, thanks to their high thickness, despite also shoulder and bellies are suitable for this use.
Single butts of leather soles are also perfect leather for tooling thanks to their hard temper and vegetable tanning, two fundamental qualities in order to make this kind of craftsmanship.
Primary uses of out-sole leather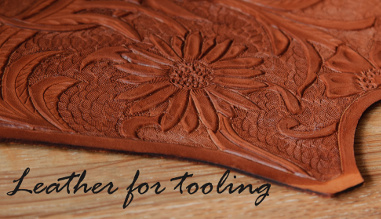 Customers who bought this product also bought: