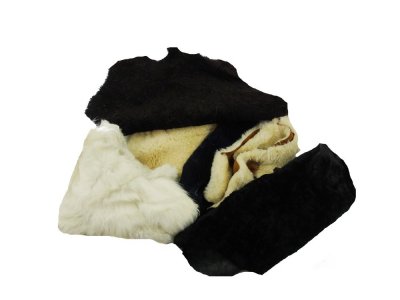 Shearling fur (hair-on) leather remnants, scraps and pieces
Soft firmness
Ideal for leather goods, leather projects, art craft, leather craft, bags, wallets and key-chain
Price is for 1kg = 2,2 lbs.
Data sheet
Tanning

Chrome Tanning

Type of Leather

Lamb - Sheepskin

Thickness Range

Normal (1 ~ 2 mm)

Exact Thickness

1,2 mm - (3 oz.)

Type of Finishing (Primary)

Hair-On - Shearling - Fur

Finishing Description

Hair-On Leather: it is a complex finishing from which derives a precious and expensive leather; the animal skin is tanned, worked and finished with its original fur. Very soft and delicate, it lends itself to the most varied uses.

Color

Mixed colors not selected. The article is sold without the possibility of choosing the color. You may express a preference in the order notes but there is no guarantee of receiving it.

Temper

2/6 Soft

Primary Use

Leather Remnants and Scraps of leather useful for creating bags, leather goods, leather for crafts, wallets,slippers, shoes, sandals, belts etc..

Minimum size of the scraps or pieces

10x10 cm | 0,3x0,3 feet | 4x4 inches | 1 palm

Average size of leather pieces

20x20 cm | 0,6x0,6 feet | 8x8 inches

Overall quality of leather

Excellent - 1° Grade

Possibility to request samples

Not Possible. This item is not eligible for sending samples
Product Information
Shearling fur (hair-on) leather remnants, with a soft firmness, mixed colors, ideal for leather goods, leather projects, art craft, leather craft, bags, wallets, key-chain. Price is for 1kg = 2,2 lbs.
Customers who bought this product also bought: