Leather remnants and scraps
Calf leather
Italian fashion style
Normal firmness
Mixed colors and finishes
Ideal for leather goods, leather projects, art craft, leather craft, bags, wallets, key holders and covers
Price refers to 1kg = 2,2 lbs
Data sheet
Tanning

Chrome Tanning

Type of Leather

Bovine Grain Leather

Thickness Range

Normal (1 ~ 2 mm)

Color

Mixed colors not selected. The article is sold without the possibility of choosing the color. You may express a preference in the order notes but there is no guarantee of receiving it.

Temper

3/6 Normal

Primary Use

Leather Remnants and Scraps of leather useful for creating bags, leather goods, leather for crafts, wallets,slippers, shoes, sandals, belts etc..

Minimum size of the scraps or pieces

15x15 cm | 0,5x0,5 feet | 6x6 inches | 2 palms

Average size of leather pieces

30x30 cm | 1 square feet (ft²) | 144 square inches (in²)

Overall quality of leather

Excellent - 1° Grade

Possibility to request samples

Not Possible. This item is not eligible for sending samples
Product Information
Mixed Italian fashion style calf leather remnants and scraps, ideal to create small leather goods, leather projects, art craft, bags, wallets, key holders, earrings, covers, shoes and accessories. This item comes in mixed color and finishes and it can change because it depends on the seasonal fashion production of the best brands.
The price is for 1kg = 2,2 lbs.
The photos are only representative of what you can receive and do not represent the current stock.
Mixed Italian Leather Remnants and Scraps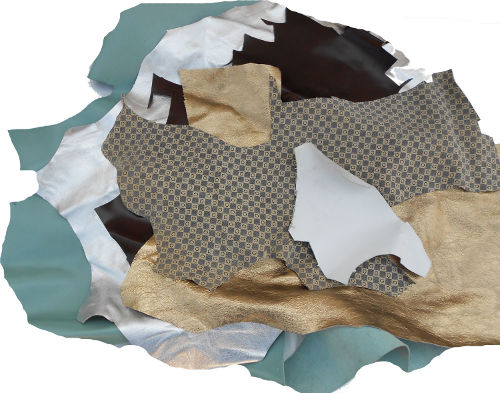 The mixed Italian fashion style leather scraps and remnants are a very particular item. This because they come from the best Italian factories, and are influenced by seasonality and the fashions of the moment. Because of this the colors and patterns of these leather scraps change constantly and closely follow the trends and tastes of the best international designers. By ordering this product you will receive at home something unique and inimitable which will allow you to make trendy bags, wallets, key rings etc...
The trimmings and scraps of leather can be sewn together in order to obtain panels (patchwork) or used directly piece by piece as the dimensions are generally sufficient for carrying objects with a single portion of the skin.
These scraps and remnants of leather have a very competitive price that coupled with imagination and uniqueness of finishing make it a must-have item for all customers and craftsmen in the leather production. The finishing that you will find within this article are the most varied, ranging from the reptile prints to the patent leather, from aniline to dry-milled pieces, all to stimulate even more your fancy!
Possible uses of leather remnants and scraps
Small leather goods like wallets and bags
Key holders
Earrings
Patchworks
Covers
Shoes
Customers who bought this product also bought: