Soft nappa leather remnants, pieces and scraps
Mixed finishing and colors (aniline, pigmented, dry-milled, pebble)
Two sizes available: "S" and "XXL"
Thickness range about 1,2-1,6mm (3-4 oz.)
These remnants comes from the best Italian upholstery factories and sofa leather
Ideal for many leather crafts projects: patchwork, shoes, bags, leather goods, wallets and accessories
The price refers to 1 kg = 2,2 lbs = 1 m² = 11 sf² =1550 In² of product
Volume discounts
| Quantity | Unit discount | You Save |
| --- | --- | --- |
| 5 | 20% | Up to €6.90 |
Data sheet
Tanning

Chrome Tanning

Type of Leather

Bovine Grain Leather

Thickness Range

Normal (1 ~ 2 mm)

Exact Thickness

1,2 - 1,4 mm (3-4 oz.)

Type of Finishing (Primary)

Mixed finish

Color

Mixed colors not selected. The article is sold without the possibility of choosing the color. You may express a preference in the order notes but there is no guarantee of receiving it.

Temper

1/6 Very Soft

Primary Use

Leather Remnants and Scraps of leather useful for creating bags, leather goods, leather for crafts, wallets,slippers, shoes, sandals, belts etc..

Minimum size of the scraps or pieces

10x10 cm | 0,3x0,3 feet | 4x4 inches | 1 palm

Maximum size of the scraps or pieces

70x50 cm | 4 square feet (ft²) | 580 square inches (in²)

Overall quality of leather

Excellent - 1° Grade

Possibility to request samples

Not Possible. This item is not eligible for sending samples
Product Information
Furniture nappa leather remnants, pieces and scraps, sold in mixed colors and finishing (aniline, pigmented, dry milled and pebble printed). These type of leather remnants comes from the best Italian upholstery factories and sofa leather and are ideal for leather crafts projects, patchwork, shoes, bags, leather goods, wallets, covers and key-rings.
The price refers to 1 kg = 2,2 lbs = 1 m² = 11 sf² =1550 In² of product.
Two sizes available
S size: from 15cm or 1 hand up to 1 sq.ft. (about 30x30cm)
XXL size: from 0,3m2 (3sf) up to 0,6m2 (6sf)
The colors are mixed and non-selected: grays, shades of brown, white, cream, red and so on.
This item contains pieces, scraps, remnants of leather ideal for leather crafts projects, in various colors. The photos are only demonstrative, they do not represent the current stock of colors and therefore what you will receive on your order.
Furniture nappa leather remnants or scraps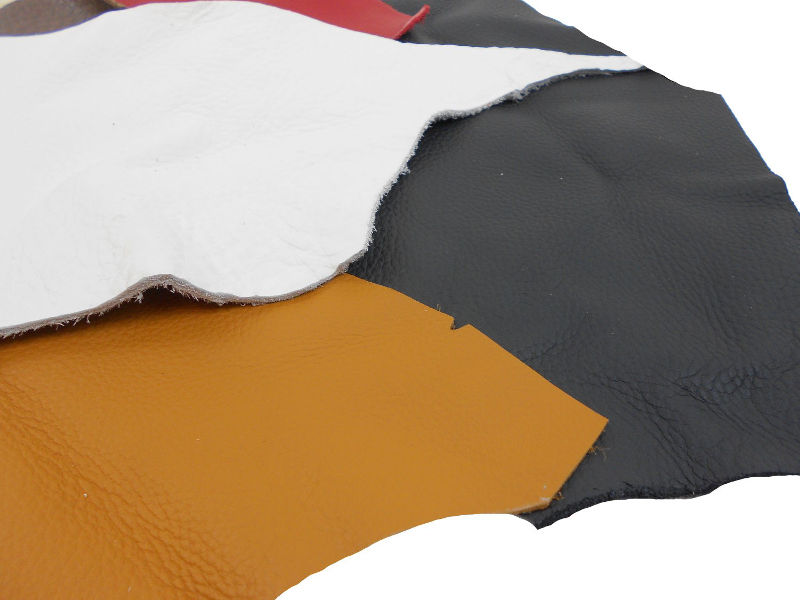 Furniture nappa leather remnants or scraps are cut-outs which have dimensions that can allow the realization of various leather crafts objects. These leather scraps and wastes come from the Italian furniture factories which use whole cattle hides to create their items such as sofas, armchairs, ottoman and chairs. These skin remnants usually have a dollar printing or smooth aniline finishing and are characterized by an excellent quality. Only the best whole cattle hides can be tanned, aniline and the fact that this waste come from Italian furniture factories is synonymous with quality and design without compromise.
Cutouts, leather scraps and remnants, despite being a waste material, have actually many uses ranging from small and medium-up leather crafts in general. On our site you can buy various types of waste and inventory skin that can have variable sizes that are indicated in the data sheet. The Nappa leather scraps are perfect to make patchwork bags, wallets, key chains, shoes, and create small items like earrings, mobile phone covers and anything else the imagination can suggest. These leather scraps are mixed in color and you can not choose them but only express some preferences and if possible we will try to satisfy every request. On our site you can get cuttings from various types of factories, the fact that these are scraps from furniture means that come from factories that use whole cow hides and have these remnants resulting from the production of puff, chairs, sofas and car interiors.
Primary applications of leather remnants
| | |
| --- | --- |
| Leather craft and leather goods | |
| | |
Customers who bought this product also bought: