Snake embossed Calfskin leather
Light and soft  
Mixed colors and kinds
Thin thickness
Suitable for leather crafts projects, patchwork, shoes, bags, leather goods, wallets, belts and small leather goods
The price refers to 1 kg ≃ 2,2 lbs ≃ 1 m² ≃ 11 sf² ≃ 1550 In² of product
Data sheet
Tanning

Chrome Tanning

Type of Leather

Bovine Grain Leather

Thickness Range

Thin (0,4 ~ 1 mm)

Exact Thickness

0,9 mm - (2 oz.)

Type of Finishing (Primary)

Embossed

Finishing Description

Embossed: this more pronounced kind of finishing usually imitates the skin of various reptiles (snakes, lizards, crocodiles, ostriches etc..), or re-creates fancy designs.

Color

Mixed colors not selected. The article is sold without the possibility of choosing the color. You may express a preference in the order notes but there is no guarantee of receiving it.

Temper

2/6 Soft

Primary Use

Leather Remnants and Scraps of leather useful for creating bags, leather goods, leather for crafts, wallets,slippers, shoes, sandals, belts etc..

Minimum size of the scraps or pieces

15x15 cm | 0,5x0,5 feet | 6x6 inches | 2 palms

Average size of leather pieces

30x30 cm | 1 square feet (ft²) | 144 square inches (in²)

Maximum size of the scraps or pieces

50x40 cm | 2 square feet (ft²) | 290 square inches (in²)

Overall quality of leather

Excellent - 1° Grade

Possibility to request samples

Not Possible. This item is not eligible for sending samples
Product Information
Snake embossed calf leather remnants and scraps, light and soft snake reptile finished leather available in mixed colors variants. This leather is suitable for leather crafts projects, patchwork, shoes, bags, leather goods, wallets, belts and small leather goods. The price refers to 1 kg ≃ 2,2 lbs ≃ 1 m² ≃ 11 sf² ≃ 1550 In² of product.
Minimum Size: from 10 cm, 1 hand, 4 inches, 0,5 feet
Average Size:  0,1 square meter, 1 square feet and up
Colors: Mixed (as in the pics and other colors)
Substance: Light Weight - Thin
Reptile leather:
Reptile skin is covered with scutes or scales which, along with many other characteristics, distinguish reptiles from animals of other classes (except fish). Scales are made of keratin and are formed from the epidermis. They may be ossified or tubercular, as in the case of lizards, or modified elaborately, as in the case of snakes. Snakes are entirely covered with scales or scutes of various shapes and sizes. Scales protect the body of the snake, aid it in locomotion, allow moisture to be retained within and give simple or complex colouration patterns which help in camouflage and anti-predator display. In some snakes, scales have been modified over time to serve other functions such as 'eyelash' fringes, and protective covers for the eyes with the most distinctive modification being the rattle of the North American rattlesnakes. Snakes periodically moult their scaly skins and acquire new ones. This permits replacement of old worn out skin, disposal of parasites and is thought to allow the snake to grow. The shape and arrangement of scales is used to identify snake species. The shape and number of scales on the head, back and belly are characteristic to family, genus and species. Scales have a nomenclature analogous to the position on the body. In "advanced" (Caenophidian) snakes, the broad belly scales and rows of dorsal scales correspond to the vertebrae, allowing scientists to count the vertebrae without dissection. 
Pieces, scraps, remnants of leather, on big size, ideal for leather crafts projects. The colors are various.These remnants come from the best Italian upholstery factories and sofa leather.
Snake embossed leather scraps and remnants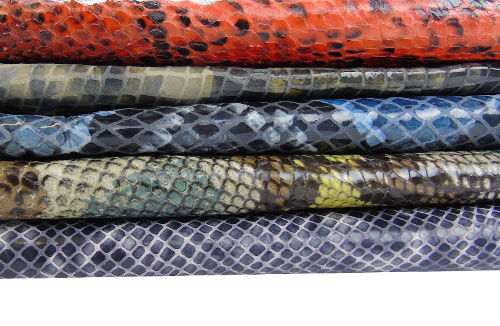 Creativity and Italian design knows no limits, and this article is the proof. The leather can be worked in infinite ways getting effects and patterns that are only limited by the human mind. These scraps of medium size are characterized by a relief printing that imitate the skin of snakes, the fact that they are products of calfskin implies that it may be larger and lower cost than using real skin of reptiles. These scraps, coming from Italian factories of leather and leather handbags, can imitate different types of snakes, some real other figment of the imagination of the designer.
The calf leather has greater thickness than the skin of the true reptiles and thus is resistant to best phase of processing and use due to wear over time. These snakeskin cutouts are suitable for use in small to medium craft items such as leather bags, clutch bags, key chains, pens, earrings, wallets and more. 
Primary uses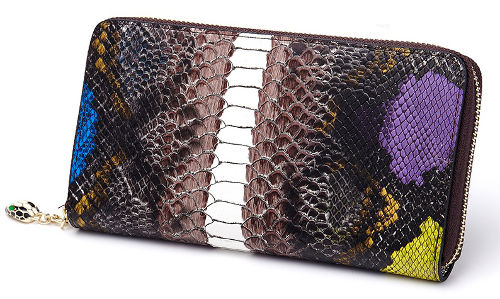 Customers who bought this product also bought: