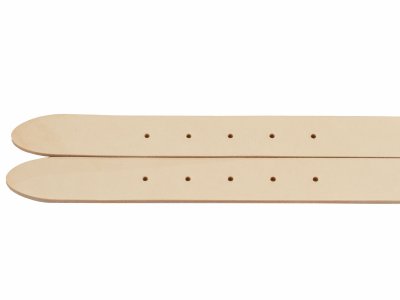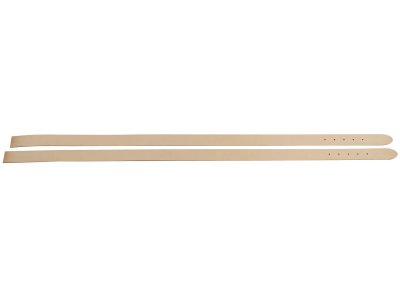 Leather strap belt blanks
Vegetable tanned bull leather
Premium quality Made in Italy
Length from 130cm (52"in) to 145cm (57"in)
Width 3,5cm (1,4"in)
Thickness 3,8mm (9,5 oz.)
With 5 holes and blunt end
Ready for the creation of belts, shoulder straps or to be customized with colors and engravings
The price refers to the single strip
Data sheet
Tanning

Vegetable Tanning

Type of Leather

Bovine Grain Leather

Leather Cut

Double Butt (Bend)

Thickness Range

Very Thick (3 ~ 5 mm)

Exact Thickness

3,8 mm - (9,5 oz.)

Type of Finishing (Primary)

Natural Vegetable (Full Grain)

Finishing Description

Natural Vegetable: this finishing, also known as "Crust", is characterized by a natural full grain surface that is clearly visible because the skin is left in its natural state without any kind finishing. It can be used in this state or further refined.

Temper

4/6 Semi-Hard

Primary Use

Belts and Saddlery. This leather is usually characterized by a square shape and an high thickness and is suitable for the production of belts, harness and saddles for motorbikes, horse riding, bicycles etc..

Overall quality of leather

Excellent - 1° Grade

Possibility to request samples

Yes, you can request samples simply by sending a message with the reference number of the product.
Product Information
Leather strap belt blanks for belts making, ready to use, natural finish, characterized by an exceptional quality being obtained from our first choices of vegetable tanned bull butts made in Tuscany.
These strips already have 5 holes and a blunt end, for this reason just attach the buckle to have a ready-made belt. This product is ideal for making belts, rifle slings, luggage straps, shoulder straps or to be customized with colors and engravings.
The price refers to the single strip
Specifications
Average length ranging from 130cm (52"in) to 145cm (57"in)
Width: 3,5cm (1,4"in)
Weight/Thickness: 3,8mm (9,5 oz.)
The following finishes and color are available:
Natural, also known as "crust" or not finished: the surface is left in its natural state, without any type of finishing, it can be used in this way or it is possible to finish it further by hand.
Customers who bought this product also bought: