Crack effect
Double butts
Laminated finishing
Very soft temper
Suitable for shoes, bags, belts, leather goods, binding, covers
The price refers to one skin of which is indicated the average size
Data sheet
Tanning

Chrome Tanning

Type of Leather

Split Leather

Leather Cut

Double Butt (Bend)

Thickness Range

Normal (1 ~ 2 mm)

Exact Thickness

1,2 mm - (3 oz.)

Type of Finishing (Primary)

Laminated (Metallic)

Finishing Description

Laminated: this finishing type covers the surface of the leather with a thin metal film which gives to the product a shiny appearance.

Temper

1/6 Very Soft

Primary Use

Leather Goods, Bags, Binding, Wallets. This leather is suitable for producing leather bags or purses, totes, luggage, wallets, book bindings, covers, lining and small leather goods in general.

Secondary Use

Shoes and Footwear. This leather is suitable for shoes and footwear of all kinds, from decoltè to boots, elegant or sporty. The leather for shoes are resistant to bending and weathering.

Size Range

Medium (up to 1,6m² - 18ft²)

Average size of the whole piece

1 m² - 11 sq. ft. - 1,2 yd²

Overall quality of leather

Good - 2° Grade

Inventory Policy

The skin may have one or more small holes.

Possibility to request samples

Yes, you can request samples simply by sending a message with the reference number of the product.
Product Information
Laminated double butts split crack effect calfskin leather, with a very soft temper, suitable for shoes, bags, belts, leather goods, binding, covers. The price refers to one skin of which is indicated the average size.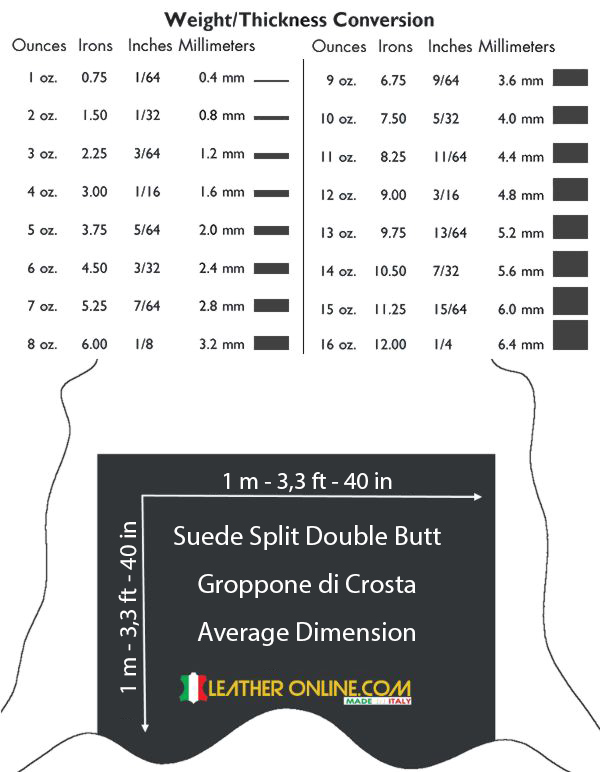 Customers who bought this product also bought: