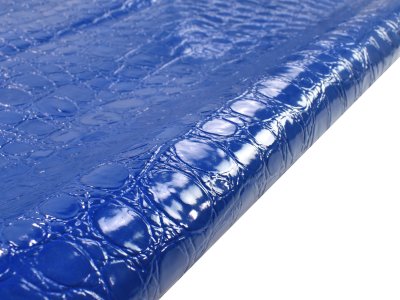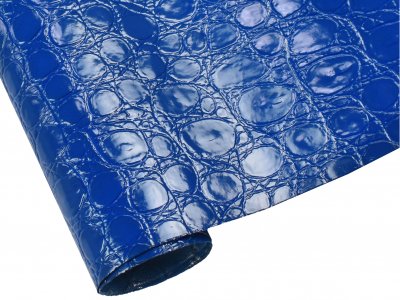 Patent alligator embossed calfskin leather
Patent and shiny finish
Soft and thin leather 
High quality of Made in Italy
Perfect for the creation of luxury bags, shoes and boots, binding, wallets, but also for garment
The price refers to one skin of which is indicated the average size
Data sheet
Tanning

Chrome Tanning

Type of Leather

Bovine Grain Leather

Leather Cut

Half Calfskin

Thickness Range

Thin (0,4 ~ 1 mm)

Exact Thickness

0,9 mm - (2 oz.)

Type of Finishing (Primary)

Embossed
Patent

Finishing Description

Embossed: this more pronounced kind of finishing usually imitates the skin of various reptiles (snakes, lizards, crocodiles, ostriches etc..), or re-creates fancy designs.
Patent (Classic): this leather has a glossy surface like a mirror, obtained by applying one or more layers of paints or lacquers, pigmented or not, based on linseed oil, nitrocellulose, polyurethane and/or other synthetic resins.

Temper

2/6 Soft

Primary Use

Leather Goods, Bags, Binding, Wallets. This leather is suitable for producing leather bags or purses, totes, luggage, wallets, book bindings, covers, lining and small leather goods in general.

Secondary Use

Shoes and Footwear. This leather is suitable for shoes and footwear of all kinds, from decoltè to boots, elegant or sporty. The leather for shoes are resistant to bending and weathering.

Size Range

Large (more than 1,6m² - 18ft²)

Average size of the whole piece

1,8 m² - 20 sq. ft. - 2,2 yd²

Overall quality of leather

Excellent - 1° Grade

Possibility to request samples

Yes, you can request samples simply by sending a message with the reference number of the product.
Product Information
Patent alligator embossed calfskin leather, characterized by shiny and patent finish. This leather has a soft hand, thanks to the thin thickness. It has a luxurious appearance from which it is possible to recognize the high quality of Made in Italy. It is perfect for the creation of luxury bags, shoes and boots, binding, wallets, but also for garment. The price refers to one skin of which is indicated the average size.
Customers who bought this product also bought: