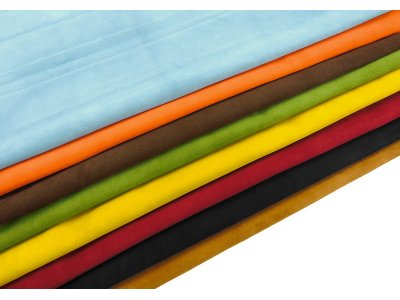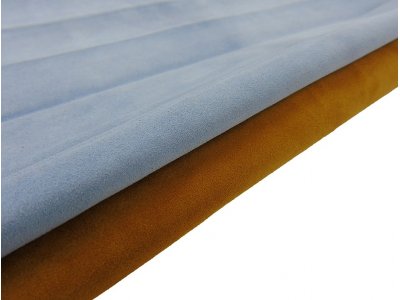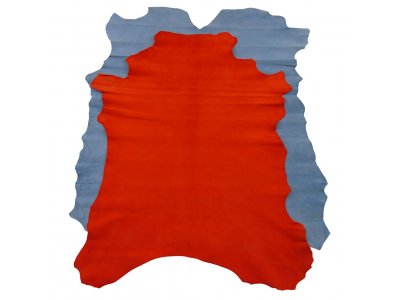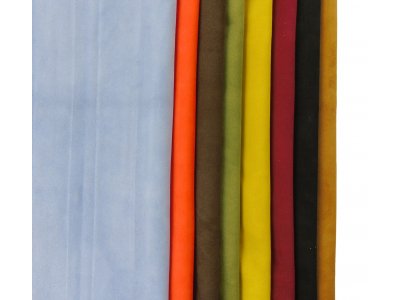 Suede (velour) sheepskins
Mixed colors and sizes
Best quality
Ideal for small leather goods such as bags, wallets, shoes, book binding, lining and also garment
The price refers to 1 skin of which the average size is indicated
Volume discounts
| Quantity | Unit discount | You Save |
| --- | --- | --- |
| 5 | 10% | Up to $4.32 |
Data sheet
Tanning

Chrome Tanning

Type of Leather

Lambskin - Sheepskin

Leather Cut

Whole Skin

Thickness Range

Thin (0,4 ~ 1 mm)

Exact Thickness

0,5 mm - (1 oz.)

Type of Finishing (Primary)

Suede - Velour

Finishing Description

Suede or Velour: it consist of a finishing of the flesh side of the skin (usually it is "split" leather, more rarely it is "grain" leather) to obtain a velvety surface, very soft, warm and natural.

Color

Mixed colors not selected. The article is sold without the possibility of choosing the color. You may express a preference in the order notes but there is no guarantee of receiving it.

Temper

1/6 Very Soft

Primary Use

Leather Goods, Bags, Binding, Wallets. This leather is suitable for producing leather bags or purses, totes, luggage, wallets, book bindings, covers, lining and small leather goods in general.

Secondary Use

Garment. It is characterized by high quality finishes and reduced thickness which ensure lightness and comfort, this item is suitable for creating gloves, jackets, blazers, coats and many other leather garment items.

Other Uses

Shoes and Footwear. This leather is suitable for shoes and footwear of all kinds, from decoltè to boots, elegant or sporty. The leather for shoes are resistant to bending and weathering.

Size Range

Small (up to 0,8m² - 9ft²)

Average size of the whole piece

0,3 m² - 3,2 sq. ft. - 0,4 yd²

Overall quality of leather

Excellent - 1° Grade

Possibility to request samples

Not Possible. This item is not eligible for sending samples
Product Information
Suede (velour) mixed whole sheepskins, best value/money ratio ideal for your tests and to produce luxury items at cheap price. All leather is 100% Made in Italy perfect for the creation of small leather goods such as bags, wallets, shoes, book binding, lining and also garment. The price refers to 1 skin of which the average size is indicated.
The photos are only demonstrative, they do not represent the current stock of colors and therefore what you will receive with your order.
Features of Suede Sheepskins
The sheep and goat skins are hides that lend themselves perfectly to many different uses, with these skins you can in fact make shoes, handbags, wallets, earrings, covers, bindings for books, leather clothing, jackets and more. They are characterized by sizes which may vary from 0.3 square meters to 0.8 square meters. In this article you will find skins which have an average size of 0.6 square meters, as indicated in the data sheet. The sheep skins are usually soft and easily lend themselves to processing by hand or with a sewing machine, given their consistency and thickness that does not exceed the millimeter. These skins are usually produced with a chrome tanning, thus being very soft and suitable for both leather goods to clothing.
In this product you will be able to buy goatskin and sheepskin choosing the finishing that most suits your needs, ranging from classical aniline, where the skin retains its natural look, the paint, the wrinkled finishing (dry-milled), laminates and finally the suede. The sheepskins are finer and softer while the goat skin is solid and durable, it all depends on what you have in mind to achieve. In this article you can not choose the colors because they are individual hides, different from each other, suitable for making objects that require the use of a skin alone or the combined use of more skins of different colors. All the leather comes from the best Italian fashion factories and tanneries, this means that the leather has a very high quality.
Possible Uses
Customers who bought this product also bought: