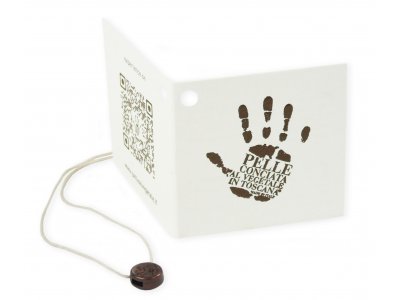 Genuine Italian Vegetable Tanned Leather in Tuscany Tags
Offer your customers the guarantee of the product you sell
Send us an email for the order
Product Information
The Consortium of Genuine Italian Vegetable Tanned Leather, rules, protects and guarantees the production of vegetable tanned leather in Tuscany through the brand "Pelle Conciata al Vegetale in Toscana". "Pelle al Vegetale" leather tags ensures the leather produced by the Italian tanneries associated with the consortium are in sourced and tanned in full compliance vegetable tanning standards.
With this label you can offer to your customers the guarantee that the material you use is 100% Genuine Italian Vegetable Tanned Leather in Tuscany.
Each trademarked certificate label is printed with anti-counterfeiting techniques and bears a progressive serial number that allows the consortium to identify, at any time and anywhere in the world, both the tannery supplying the leather, the distributor and the manufacturer of the product.
Each label comes with a guarantee seal, a cord of natural cotton with an irreversible lock embossed with its logo and has a QR code. Click here for more info about the Consortium.
These tags can only be purchased in conjunction with the purchase of a leather from the listed tanneries.
Associated Tanneries for which the tags is available:
Conceria Badalassi Carlo
Conceria Walpier
Conceria Tempesti
Conceria La Perla Azzurra
To order them you need to send us an email. The cost varies according to the quantity ordered.