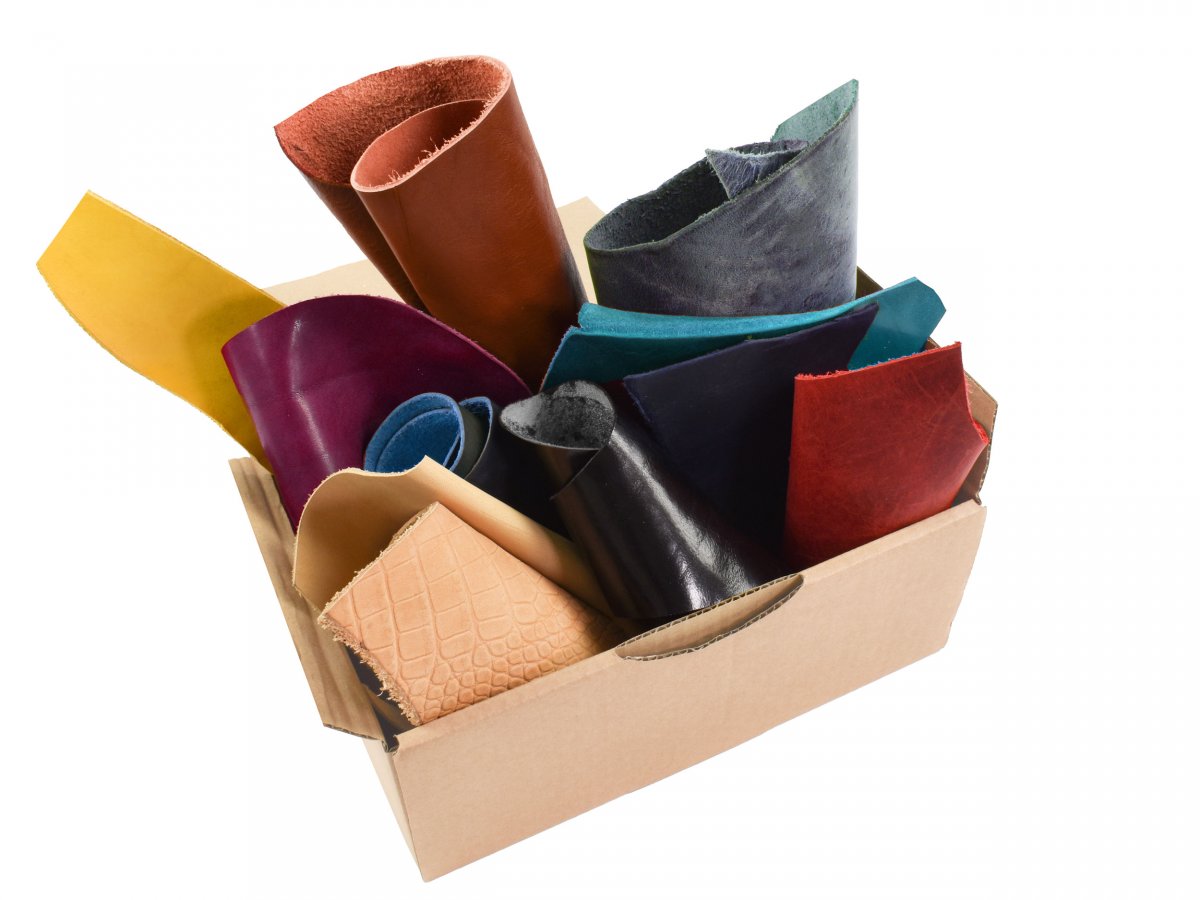 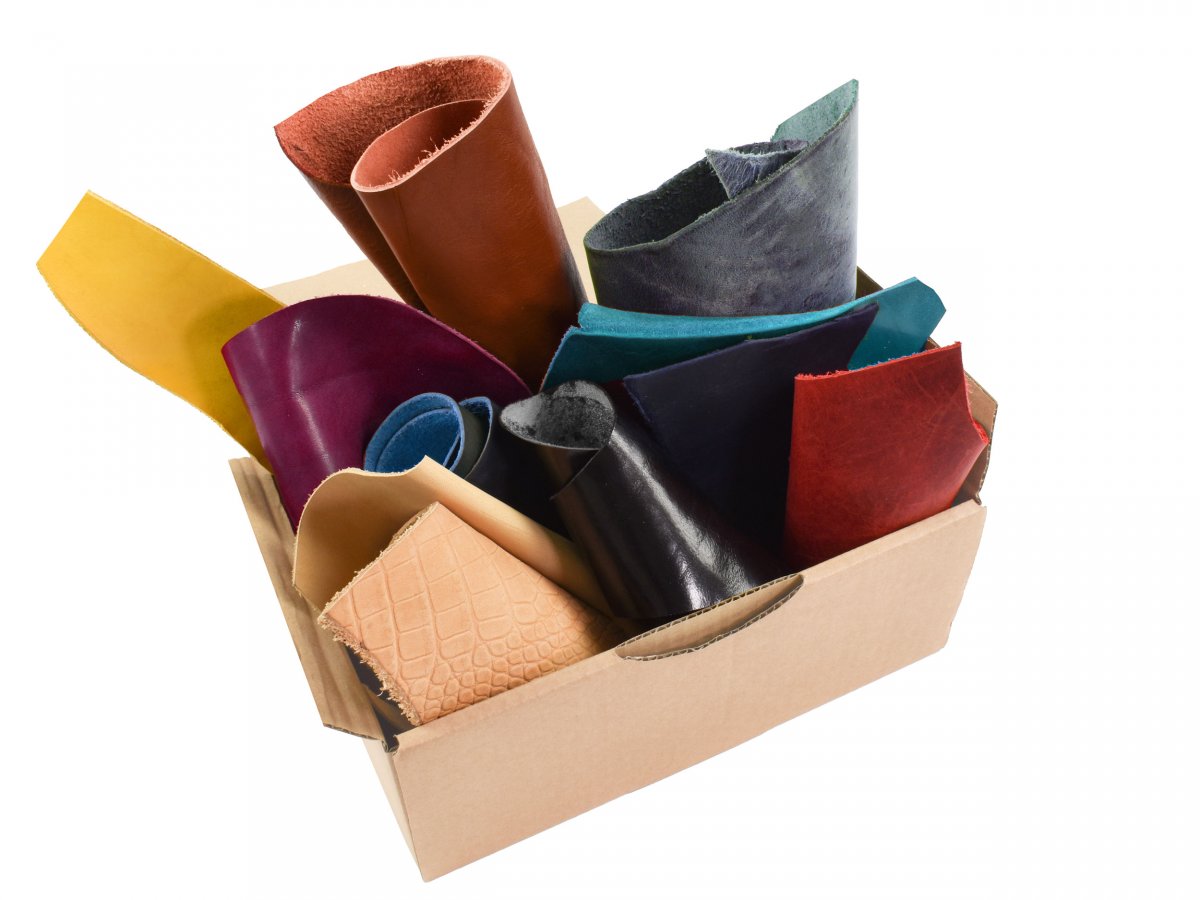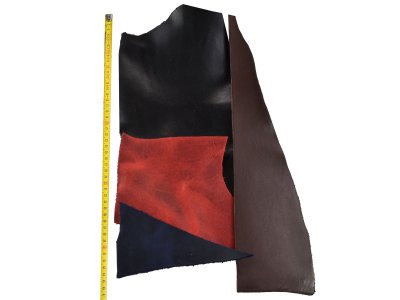 Vegetable tanned leather mixed scraps and remnants
100% Made in Italy
Mixed finishes (natural, pigmented, pull-up, printed, waxed etc.)
Mixed thicknesses from 1mm (2.5oz.) to 4mm (10oz.)
Mixed firmness
Mixed colors not selectable (the pictures are only indicative)
Various irregular sizes
Suitable for making small objects, for tests, patchwork, shoe parts, watch straps, card holders, wallets, bags, covers, key rings and more
The quantity shown in the main picture roughly corresponds to 1kg (2,2 lbs)
You can select the bundle size.
VOLUME DISCOUNTS
| | |
| --- | --- |
| Package Size | Discount |
| 5kg | -22% |
| 10kg | -28% |
Data sheet
Tanning

Vegetable Tanning

Type of Leather

Bovine Grain Leather

Thickness Range

Normal (1 ~ 2 mm)
Thick (2 ~ 3 mm)
Very Thick (3 ~ 5 mm)

Temper

2/6 Soft
3/6 Normal
5/6 Hard

Primary Use

Leather Remnants and Scraps of leather useful for creating bags, leather goods, leather for crafts, wallets,slippers, shoes, sandals, belts etc..

Minimum size of the scraps or pieces

10x15 cm ≃ 4x6 inch ≃ 0,3x0,5 feet

Maximum size of the scraps or pieces

20x40 cm ≃ 8x15 inch ≃ 0,6x1,3 feet

Overall quality of leather

Excellent - 1° Grade
Good - 2° Grade

Possibility to request samples

Not Possible. This item is not eligible for sending samples
Product Information
Vegetable tanned leather scraps and remnants, 100% Made in Italy, in various finishes such as natural, pigmented, pull-up, waxed, printed, etc.. It is possible to find pieces of leather with different tempers, from soft to rigid, mixed thicknesses ranging from1 mm (2,5 oz.) to 4 mm (10 oz.) and various irregular dimensions. The vegetable tanned leather scraps contain pieces and remnants of non-selectable mixed colors. This recovery item is suitable for making small leather goods, for trials and tests, patchwork, shoe parts, watch straps, card holders, wallets, covers, key rings and much more.
N.B. Pictures are only indicative and do not represent the scraps you will receive or the current stock.
The quantity shown in the main image corresponds approximately to 1kg (2,2 lbs) of leather and 1 kg of off-cuts corresponds to ≃ 10-15 pieces (the number may vary).
The price refers to 1 kg (2,2 lbs)of leather.
You can receive different irregular sizes:
- Minimum size ≃ 10x15 cm ≃ 4x6 inch ≃ 0,3x0,5 feet
- Maximum size ≃ 20x40 cm ≃ 8x15 inch ≃ 0,6x1,3 feet
Eugenia G. published the 16/09/2023 following an order made on 22/08/2023
A nice assortment for small projects, like key fobs, coasters, card cases, etc. Various thickness.
Aniela Eniko L. published the 16/09/2023 following an order made on 15/08/2023
Wonderful, excellent quality, nice colours, bright amd shiny, exactly what I asked for, and a wow bonus: I received the leathers in the national colours of my country :) Great job, thank you, team! Mille grazie :)
Customers who bought this product also bought: