
Suede (velour) full grain leather
Big size bull double butt 
Premium quality 
Double-face leather (usable on both sides)
This kind of leather is the world best suede/velour, used by the most famous Brands of Fashion to create their products
It is intended for luxury shoes, bags and belts
The price refers to one skin of which is indicated the average size.
Data sheet
Tanning

Chrome Tanning

Type of Leather

Bovine Grain Leather

Leather Cut

Double Butt (Bend)

Thickness Range

Thick (2 ~ 3 mm)

Exact Thickness

1,5 mm - (4 oz.)
2 mm - (5 oz.)

Type of Finishing (Primary)

Suede - Velour

Finishing Description

Suede or Velour: it consist of a finishing of the flesh side of the skin (usually it is "split" leather, more rarely it is "grain" leather) to obtain a velvety surface, very soft, warm and natural.

Temper

2/6 Soft

Primary Use

Shoes and Footwear. This leather is suitable for shoes and footwear of all kinds, from decoltè to boots, elegant or sporty. The leather for shoes are resistant to bending and weathering.

Secondary Use

Leather Goods, Bags, Binding, Wallets. This leather is suitable for producing leather bags or purses, totes, luggage, wallets, book bindings, covers, lining and small leather goods in general.

Other Uses

Belts and Saddlery. This leather is usually characterized by a square shape and an high thickness and is suitable for the production of belts, harness and saddles for motorbikes, horse riding, bicycles etc..

Other Uses (2)

Furniture, Upholstery and Coverings. This kind of leather is intended to cover chairs, tables, puffs, sofa leather, carpet, armchairs, furniture, automotive interiors but it's also usable for every purpose.

Size Range

Large (more than 1,6m² - 18ft²)

Average size of the whole piece

1,2 m² - 13 sq. ft. - 1,4 yd²
1,8 m² - 20 sq. ft. - 2,2 yd²
2,9 m² - 32 sq. ft. - 3,4 yd²

Overall quality of leather

Excellent - 1° Grade

More details about quality

The grain side, being secondary side, could present spots or marks.

Possibility to request samples

Yes, you can request samples simply by sending a message with the reference number of the product.
Product Information
Suede (velour) full grain leather, big size double butt bull leather of outstanding quality. This item is double-face (usable on both sides) and it is intended for luxury shoes, bags and belts. This kind of leather is the world best suede/velour, used by the most famous Brands of Fashion to create their products. The price refers to one skin of which is indicated the average size.
Why this suede leather is so special?
Unlike the usual suede leather, which usually has a reduced thickness and represents the cheapest layer of the leather, coming in fact from the lower layer of the grain, this leather is full grain and suede at the same time. In fact, the main side is the "flesh" side, where we have a high quality suede, while the secondary side is the grain side, with a nubuck-like finish, therefore already ready to be used, having this function as an internal lining. This guarantees higher thicknesses and exceptional quality, compared to the classic suede.
This is a double face leather, what does it mean?
The double face leather indicates a leather that can be used on both sides: the main side is the suede one, to be used for the outside of the objects, while the secondary side is that of the grain of the leather, to be used as an internal lining already ready. This makes it possible to have two materials in one, since for the creation of most leather objects, the craftsman needs a leather for the externally exposed side and a leather to finish the inside of the object, also called lining.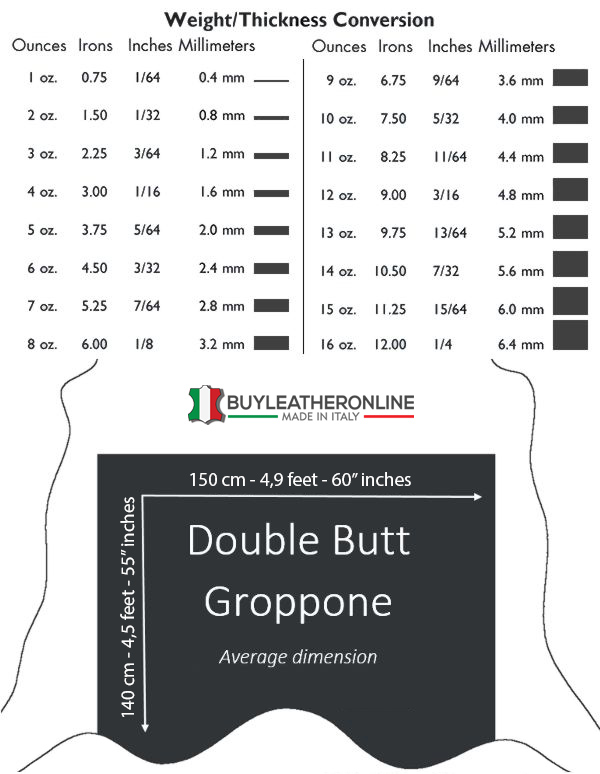 Customers who bought this product also bought: